Cool Beans Indoor Playground (Palm Beach Gardens)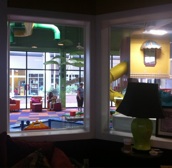 ***** Cool Beans Indoor Playground, 11701 Lake Victoria Gardens Avenue (Downtown At The Gardens), Palm Beach Gardens, Florida 33410, (561) 627-1782.
Got something really cool for parents/grandparents of young kids—ages 6 months-6 years…an indoor-playground named- Cool Beans Indoor Playground- located in Palm Beach Gardens.
If you read Jeff Eats' "About Me" section, you'll note that at one time Jeff Eats was the CEO of a Florida based Discovery Zone franchise…for those unfamiliar with Discovery Zone, think Chuck E. Cheese sans the animatronics and you'll be on the right page…the point—Jeff Eats is extremely familiar (at least I think I am)- with all aspects of kids' entertainment centers/indoor playgrounds from site selection- design/construction/décor/equipment/staffing/operations.
Now let me get back to Cool Beans…
Cool Beans is one of the coolest entertainment/indoor playgrounds that I've seen. Best way to describe it…Indoor playground meets Starbucks/Panera Bread.
At this stage of the game (pun intended) go check www.coolbeansplaycafe.com for pictures/details—the site will give you some idea as to how cool this joint looks, the play-stuff it offers and the food/beverages available. For you lazy guys…just imagine a kid's indoor playground inside a Starbucks with Panera Bread type food offerings—there- I did the work for you, so you can stay on this page!
Long story on how I found this joint, but I will tell you…first class all the way! CLEAN–top-shelf play equipment, great looking café décor, quality/reasonably priced food/beverage offerings. Now nothing for nothing in that I didn't interview the entire staff—but my money says-that whoever owns this joint, has a top-notch GM and "counselor" staff watching after the kids…
Now for a little secret…the trick to a successful kids' entertainment/indoor playground is that- THE PARENTS (ADULTS) DON'T MIND BEING THERE! Let me repeat that for you slow learners…if the parents (adults) don't mind being there, they'll take the kids there.
Let me wrap this up for you…
Yesterday afternoon, Jeff Eats "watched" Cool Beans Indoor Playground for a good 40 minutes…no question in my mind, every kid had a blast–and every adult was as relaxed as could be.
Like I said 19 seconds ago, Cool Beans Indoor Playground is a first-class operation….if you have kids and live in Cool Beans' neighborhood —give it a shot. If you live in the neighborhood, don't have kids and still give Cool Beans a shot–Abogado Jeff Eats is well versed in Florida Criminal Law and can be reached/retained at www.jeffeats.com!
For those of you with devious minds, kidless Jeff Eats introduced himself to two employees before he "checked" the joint out…so there!
Cool Beans is open Monday-Thursday 9am-8pm, Friday-Saturday 9am-9pm, Sunday 10am-6pm.