Schnapper's Hots (Sanibel)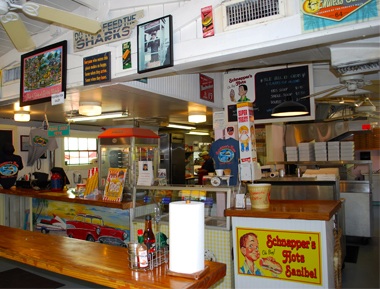 ***** Schnapper's Hots, 1528 Periwinkle Way, Sanibel, Florida 33957, (239) 472-8686.
Schnapper's Hots…fast-food "hot dog stand" with limited standing -room eating inside and limited outdoor seating—located in Sanibel.
Short and sweet, Jeff Eats "lives" for joints like Schnapper's Hots.
Terrific all-beef hot dogs, burgers, wings char-broiled on a gas grill…equally delicious fresh hand-cut french fries, home-made hand breaded onion rings, pizza, fried fish sandwiches, ice cream cones and shakes—and you got a home-run in this boy's book. Throw in the fact that the joint is located on a street named PERIWINKLE WAY…and you know you gotta try it!
Check menu/photos at www.schnappershotssanibel.com.
Schnapper's Hots is open Sunday-Thursday 11am-8pm, Friday-Saturday 11am-9pm.