Jordan's Steak Bistro (Wellington)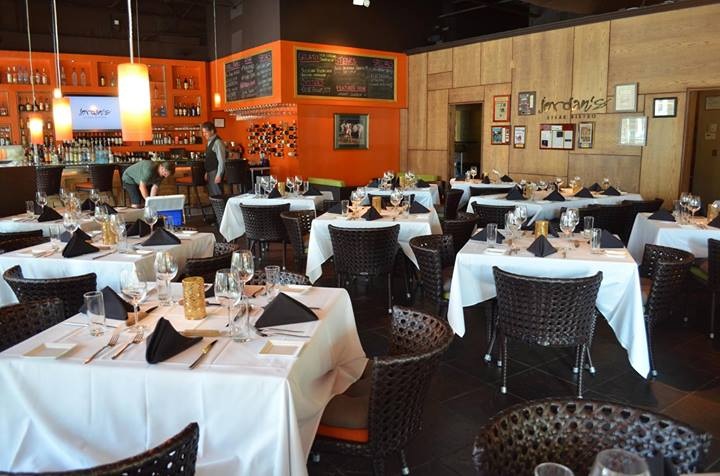 ***** Jordan's Steak Bistro, 10140 West Forest Hill Boulevard, Wellington, Florida 33414, (561) 793-9394.
Got a really good "American Style" joint for you…Jordan's Steak Bistro in Wellington.
I appreciate—that the word STEAK is featured in the restaurant's name…but Jordan's really isn't a steak-house….
The joint's got a full bar with tvs and a casual décor. When you check Jordan's website- www.jordanssteakbristro.com for menu/prices, you'll find a couple of photos, so you'll know what the restaurant looks like.
Jordan's menu covers grilled cheese sandwiches to bone- in ribeyes…so don't worry, everybody is gonna find what to eat.
A recent outing entailed, fried calamari-margherita flatbread-grilled Caesar salad-cheeseburger-18oz bone-in ribeye…and I must-say, everything was delicious. I especially enjoyed the ribeye-ranking it up there with the stuff you catch in the best South Florida steakhouses. On the price front, let's say "reasonable" and service was as pleasant as can be.
Just so we are on the same page here, that ribeye ran 39 bucks and the steak fries side was another 5 …so– we ain't exactly talking neighborhood "sports bar" prices—but all in all, the bet here is, that you won't have to rush out to some ATM when you see the bill…then again, maybe you will have to, but I don't know, because Jeff Eats hasn't looked in your wallet-lately!
Let me wrap this one up for you this way…
Jeff Eats really enjoyed Jordan's…
Jordan's Steak Bistro is open Monday-Thursday 4pm-10pm, Friday-Saturday 4pm-11pm, Sunday 4pm-9pm.