City Pub (Deerfield Beach)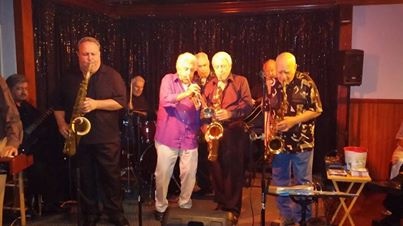 ***** City Pub, 956 South Federal Highway, Deerfield Beach, Florida 33441, (954) 427-8213.
Got something terrific for you–that's assuming you ain't a fancy-schmancy type of person…
City Pub an "American-Style" joint in Deerfield Beach. Picture a huge full service bar-attached to a real simple dining area of tables/chairs with a small stage, huge dance-floor and you got-City Pub. Do me a favor and check www.citypubdeerfield.com where you'll find loads of pictures-so you'll know what I'm trying to describe…the site also has full menu/entertainment schedule.
Just so we are straight, although it has its fair share of flat screen tvs-City Pub doesn't look like Duffy's, Friday's, ____(fill in name) Ale House…rather, it reminds me of the local bar & grills that literally were on every other Brooklyn corner in the 1950s-1960s…no fooling around, City Pub has virtually no "decor"-and is very dimly lit…Trust this Yeshiva bocher from Brooklyn-I've spent my fair share of nights in no decor-dimly lit bars…and City Pub could be the poster child for the genre.
So you know, Jeff Eats and Mrs. Jeff Eats have been to City Pub twice–and we absolutely loved the joint. This is a place where people come to drink-eat-socialize. The joint is open Tuesday-Saturday from 5pm-to late—and features live entertainment. When you check City Pub's website, take a close look at its entertainment line-up…doo wop groups, rock bands, Motown bands, impersonators, comedians. On the food front-although the joint's menu isn't huge, there are enough appetizers, burgers, sandwiches, entrees and desserts-so nobody's gonna go home hungry. For what it's worth, the bacon cheeseburger, french fries, fried greenbeans, philly cheese-steak sub, blackened mahi-mahi sandwich, rack of babyback ribs that Jeff Eats and Mrs. Jeff Eats had–were as good, if not better than the "stuff" served by the Duffy's, Friday's and ____(fill in name) Ale House that dot the area.
Now, I'm not saying that everybody is gonna dig City Pub…all I know-is that Jeff Eats and Mrs. Jeff Eats had an absolute blast and will definitely be back for more go-rounds.