Pasta Fever (Boca Raton)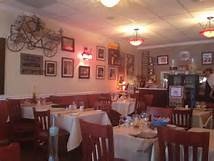 Pasta Fever, 4251 North Federal Highway, Boca Raton, Florida 33431, (561) 338-0012.
My mother use to say…"If you don't have anything nice to say, don't say anything."–With that in mind, this Jeff Eats' "review" should end right about now…
Imagine the 3 Stooges running a "hole in the wall" Italian joint (with a handful of French dishes)—and you "got" the picture…wrong entrees delivered to the table, 3 out of 4 entrees over-salted, veal parmigiana so bad that it was inedible, cramped table setup, amateurish service…a colossal waste of time and money. This evening's dinner was such a mess that Jeff Eats couldn't wait for the meal to end so I could get the hell-out of Pasta Fever. Roughly 140 bucks (4 people) down the drain…and the owners and waiter seemed oblivious as to how poorly they had performed.
Look! I could go on and on about this "debacle" but I won't…all I know is that some clown-waiter tried to convince me that the chicken parmigiana he delivered was veal parmigiana–give me a freaking break!…and by the way-waiter…Moe-Larry-Curly-Shemp-Curly Joe whatever your name is, water glasses are designed to be occasionally refilled…also tell your fellow "Stooge" in the kitchen, that a croc of French onion soup doesn't require SALT and I do mean SALT! One other thing, the owners of this joint should know that when you are "in a rush" to replace inedible veal parmigiana with 4-cheese ravioli in an Alfredo cream sauce…it's not such a "hot move" (pun intended) to deliver the dish with hot sauce on top of ice-cold pasta—trust me-I know, it don't taste too good! Capice! Then again, I understand that the owner-chef is a born and bred Frenchman–so just maybe he doesn't capice.
In all fairness, the bread which came with olive oil was decent.
Be smart…
Don't even think about eating in this joint…www.pasta-fever.com.