Caketory (Boca Raton)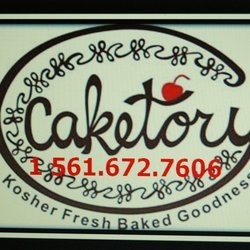 ***** Caketory, 7160 Beracasa Way, Boca Raton, Florida 33433, (561) 672-7606.
The other day, purely be accident- after eating a lunch of sweet & sour pork and pork fried rice at a Pei Wei Asian Diner– Jeff Eats discovered Caketory, a kosher bakery (located 2 doors-down) that makes breads, cookies, cakes, cupcakes, pastries.
Jeff Eats and Mrs. Jeff Eats absolutely loved the challah and mixed cookie lb that I brought home.
You do know-that I couldn't resist "working"- pork and kosher into the run-on sentence that started things off-here…don'tcha?
Anyway…assuming that you aren't looking for maple walnut bacon topped donuts–
Check Caketory's website www.caketory.biz for menu/prices.
Caketory hours:
Monday……closed
Tuesday…..7am-4pm
Wednesday…7am-5pm
Thursday….7am-6pm
Friday……7am-2pm
Saturday….closed
Sunday……7am-4pm