* Men With Mics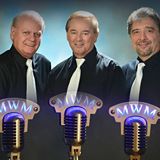 * Men With Mics
It never ceases to amaze Jeff Eats as to the number of musically- "talented" people who live in South Florida…with that in mind, let me introduce you to– Men With Mics.
Recently caught this 3-man group at Bobby Rubino's in Pompano Beach and I gotta tell you, if you are a fan of doo wop, 60's Rock n' Roll and 1970's disco music—these guys will definitely blow you away. Nothing fancy going on here…three guys singing to background tracks—but man-can they sing!
If this is your "bag"- you can catch Men With Mics at restaurants/country clubs all over South Florida.
For info on the group's schedule/bookings…
www.menwithmics.com.
www.facebook.com/MenWithMics.