English Tap & Beer Garden (Boca Raton)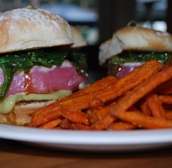 ***** English Tap & Beer Garden, 5050 Town Center Circle, Boca Raton, Florida 33486, (561) 544-8000.
Silly me!
Something like 2 years ago, a restaurant named English Tap & Beer Garden opened in Boca Raton…until last Friday night, Jeff Eats "thought" that the joint was a British pub where fish & chips were the primary dish served and people who looked liked Winston Churchill- sat around eating, drinking and waiting for Prince William and Kate Middleton's baby to be born. But oh contraire, it's really an "American Style" joint that seats something like 250 inside/outdoor patio and serves all kinds of appetizers, salads, burgers, sandwiches, flat breads, wings, meat/chicken/seafood entrees and desserts…it has 2 full bars, 1 inside/1 oustide—tons of beers on tap and loads of flat screen tvs.
Real fast, the ENGLISH in the "title"—the joint's creator was Todd English the celebrity chef/entrepreneur…like Jeff Eats said 4 seconds ago, silly me. Before I get to the "meal"…what's with this American fascination with this Prince William and Kate Middleton's baby thing? If memory serves me correctly, didn't we kick their (that's the British) asses back in 1776 or 1783 or whenever it was? So what's the big deal with this baby or for that matter anything even remotely connected to the Royal Family? Let's get serious here, do you really think that Prince William or his brother Prince Harry or for that matter their father Prince Charles could competently run a Sunoco station (you do remember Sunoco Gas don't you?) on his/their own without a brigade of Buckingham Palace guards instructing them the whole way? Well I don't—talk about being members of the "Lucky Sperm Club."
Anyway…
Last Friday night, Jeff Eats, Mrs. Jeff Eats and another couple gave the English Tap & Beer Garden a "try"…and I gotta tell you, the joint is terrific.
As I mentioned above, there is both inside and outdoor patio seating…in fact, though I didn't do a head count, Jeff Eats' money says that more than half-the seating is outside under huge umbrellas. The ordered items included… mac & cheese with bacon, meatball flat-bread, bacon cheeseburger, crab cakes, bbq babyback ribs, bbq pulled pork sliders—and I gotta tell you, that everything we ordered was delicious.
At this stage of the game, check www.theenglishtap.com for menu/prices.
English Tap & Beer Garden is a real casual joint…your tee shirt/shorts ensemble will work perfectly there. Just so you know, the joint has all kinds of daily food "specials"-you can easily stuff your face for $9.99 and $14.99–it also has loads of drink/food happy-hour specials.
Let me wrap this one up…Good food, real reasonable prices. terrific energetic young staff, cool inside/outside seating setup.
Jeff Eats really enjoyed this one…
English Tap & Beer Garden is open Monday-Thursday 11:30am-midnight, Friday-Saturday 11:30am-2am, Sunday noon-10pm.
One final thought on this English thing…in retrospect, the English-did give us Gerry & The Pacemakers—for which Jeff Eats will always and forever be deeply indebted.