* Nostalgic Candy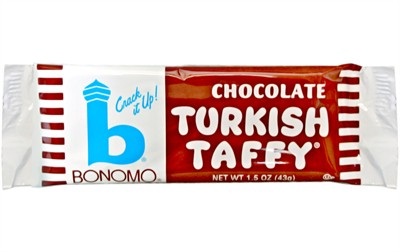 * Nostalgic Candy
I don't know about you guys…but every so often Jeff Eats likes "to go back" to a more innocent time…for me that's the 1950's—mom, dad, brother Andy and our 2 bedroom 2 bath apartment- 6M at 811 Cortelyou Road, Brooklyn, New York 11218—(718) GE 8-7625.
Now- you and I both know that there is no such thing as a time-machine.
Jeff Eats' way of going back—
I go to the computer and type in www.blaircandy.com and order 4 boxes of 24 count 1.5oz bars of Bonomo Turkish Taffy at 24 bucks a box —1 box of vanilla, 1 box of chocolate, 1 box of strawberry and 1 box of Banana (my favorite)—wait 3-4 days, get the package in the mail- and then precede to smack the bars down and crack the taffy up.
You'd be very surprised how effective this Bonomo Therapy is…
For you guys who don't know what the hell I'm talking about…GOOGLE-BING or whatever you use!
If you got a second, tell sentimental old Jeff Eats about the candy of your "past."