Burgers & Suds (Fort Lauderdale)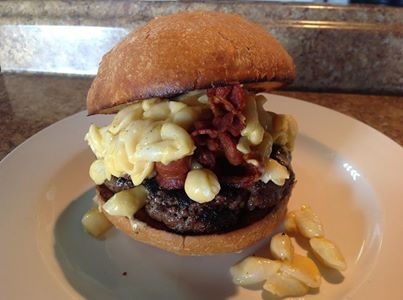 ***** Burgers & Suds, 261 East Commercial Boulevard, Fort Lauderdale, Florida 33334, (954) 772-8007.
You guys can thank me later!
Last night, Jeff Eats ate at Burgers & Suds…for our purposes- let's call it an "American-Style" hole-in-the-wall that serves salads, burgers, wings, pizzas, sandwiches/wraps, tacos/burritos, Saturday-Sunday breakfast. The name Burgers & Suds is a bit deceiving…for sure, the joints- got 13 different burgers and something like 10 different bottled beer brands—but as I mentioned 2 seconds ago, there is a load of other "items" to stuff your face with.
Before I get into what I "tried"—let me tell, if you want to eat some outrageously good food—then you gotta go to Burgers & Suds. By the way, the joint has only been open…5-months.
I think you guys know by now, that Jeff Eats has eaten in his fair share of South Florida restaurants. Trust me on this, Burgers & Suds' food is heads and shoulders better than most of the joints that I have been to.
Just so you know, Burgers & Suds looks like an absolute "dump" inside and outside…the inside has a bar that seats maybe 6 and 3 hi-tops that seat 9—the awning covered outside patio has a handful of tables with seating for 24…do the math—we are talking a total of 39 seats for the whole joint.
Before Jeff Eats goes any further, let me tell you that Burgers & Suds is my kinda of a joint or shall I say dump? I seriously doubt that most people looking at Burgers & Suds for the first time-would even consider eating there…
I'm sure, that you-know the old saying…"Don't judge a book by its cover"—well, Burgers & Suds could be the poster-child for that famous line.
Last night, Jeff Eats' party of-4 "had"…honey garlic wings (10 wings $8.95), Greek salad ($5.95), 1/2lb cheeseburger with onion rings ($8.95), chicken wrap with sweet potato fries ($7.95), 10" margarita pizza ($7.95), lamb burger with French fries ($10.95) and the food was amazingly good. No fooling around here, I would rate the cheeseburger right up there with the best that I've had ANYWHERE. Let me go as far and say—every item that we had was terrific and could hold its own against South Florida's best of breed.
Burgers & Suds was a rare find. This joint isn't some-guy throwing pre-formed frozen burger patties on a grill…the joint is supplied daily by a local butcher shop…hamburgers are charbroiled while lamb burgers are flat-top grilled—salad dressings are made in-house. The back-of-the-house really knows how to "cook" and portion size/price points tells me that a real "pro" is running Burger & Suds.
For right now, I'm thinking-that not too many people know about this joint- but, I'm willing to bet you a breakfast/lunch/or dinner–your choice, that this anonymity won't last too much longer. There is no way that food like this—doesn't find a gigantic audience.
For you "drinkers"–in addition to 10 bottled beer-brands, Burgers & Suds has a handful of wines by the glass/bottle…
For you "sports people"– there are 2 big flat screen tvs inside and 1 big flat screen outside.
Not to be too repetitious or nothing—but I'm telling you, you gotta try this joint!
You can check www.burgerssuds.com for menu/prices.
Burgers & Suds is open for lunch/dinner Monday-Friday 10am-9pm, Saturday-Sunday 8am-9pm (breakfast 8am-noon).