* JAY AND THE AMERICANS (Mardi Gras Casino, Hallandale Beach)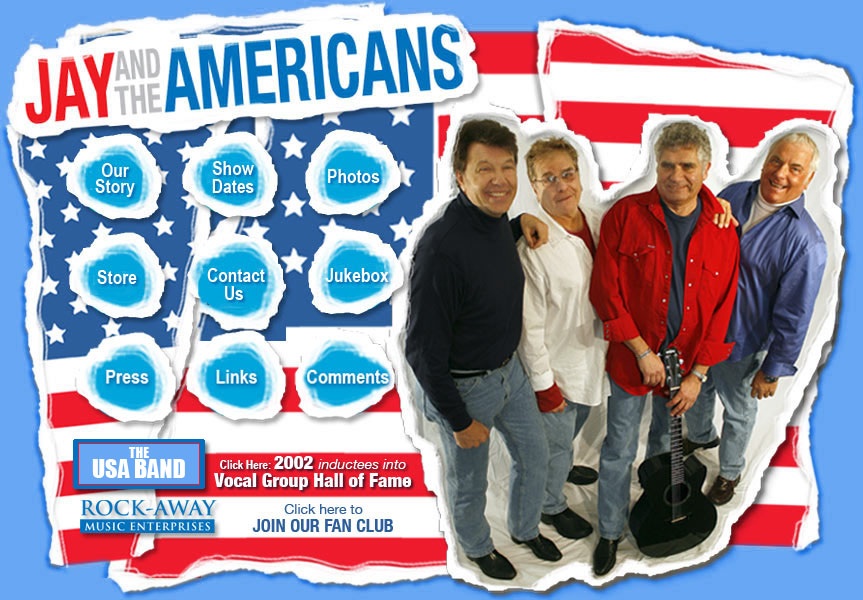 * JAY & THE AMERICANS (Mardi Gras Casino, Hallandale Beach)
Just wanted to give you 1960's Rock N Roll aficionados a heads up…on Tuesday Night, October 15, 2013 one of Rock's legendary groups -Jay And The Americans will be in concert at the Mardi Gras Casino in Hallandale Beach. Don't have ticket pricing-yet, but if the Mardi Gras Casino "prices" tickets like it did for its recent -The Lovin' Spoonful and The Grass Roots' concerts—don't worry, you won't have to get a second job to pay for your seats. By the way, Jeff Eats attended both of those concerts (which were held outdoors in the Grandstand area) and the bands and the casino put on fabulous shows…you just gotta pray for good weather!
Just a drop of history…
JAY AND THE AMERICANS with hits such as "She Cried"–"This Magic Moment"–"Cara Mia"–"Come A Little Bit Closer"-"Walking In The Rain"–"Some Enchanted Evening"–"Only In America" has had three lead singers…John Traynor, Jay Black and Jay Reincke. For what it's worth, way back when—in 1975 Jay Traynor's mother was Jeff Eats' legal secretary when he worked for D'Amato, Costello & Shea in New York City. Now catch this one, Mrs. Jeff Eats when she was 13 years old, baby-sat for Jay Black's son when Jay lived in Brooklyn, New York. Mrs. Jeff Eats and Jay Black (his real name is David Blatt, but don't tell anyone) lived in the same apartment building -The Phillip Howard on Flatbush Avenue…and no I can't tell you what year it was- because Mrs. Jeff Eats would kill me if I did. Sorry, no "history" with Jay Reincke the newest of the bunch -as he is originally from Chicago and Jeff Eats only connection to that City is that his cousin Bobby -a major-heavyweight SEC attorney has lived there since 1975.
Anyway…keep an eye on www.mardigrasfl.com for details.
One final note…check-out Jay And The Americans at www.jayandtheamericans.net. The site has a real-interesting "biography" on the group and its lead singers.