* KLONDIKE BAR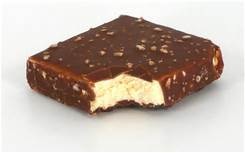 * KLONDIKE BAR
I'm gonna assume that you guys know what a Klondike ice cream bar is…if you don't, save Jeff Eats some time and go "google" or "bing" or whatever you-do and "learn" the history of one of the greatest items ever invented by mankind–namely, a square of vanilla ice cream covered in a chocolate shell.
Really don't want to get into a Klondike "discussion" but that "simple" vanilla/chocolate treat which has been around since the early 1900s-now has siblings…mint chocolate chip, krunch, rocky road, dark chocolate, heath, oreo, heath, double chocolate, neopolitan and carmel pretzel. Now, for a drop of "not so good news"–those delicious/amazing/terrific/sensational ice cream bars-are gonna set you back 250-300 calories a piece.
To make a long story short…
About a month ago, Mrs. Jeff Eats said to me and I quote, "You're getting as big as a house and those Klondike Bars you eat aren't doing you any favors, either."
Hey! This "thing" is getting too stupid for even Jeff Eats…
The point…in addition to the "real ones"…
Klondike "makes" Klondike Slim-A-Bear 100 Calorie Bars…they are 1/2 the "weight" of a regular Klondike Bar—but have less than 1/2 the calories. Jeff Eats loves them–they taste just like the "real ones" and seem to get the job done from a sweet tooth perspective.
Check www.klondikebar.com for product information.
Just so you know, Mrs. Jeff Eats gets "ours" at Publix –and depending on the "solar equinox" a pack of 8 bars runs either $3.99 or $4.49.
Seriously, these 100 calorie-squares are a real good way to stop some calories from finding their way to your waist, thighs, behind. stomach, hips, (fill in the blank).