Dune Deck's Mimosa Cafe (Boynton Beach)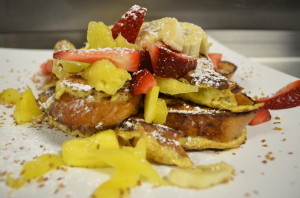 ***** Dune Deck's Mimosa Café, 10833 South Jog Road, Boynton Beach, Florida 33437, (561) 742-8005.
Real fast…back on February 15, 2008 Jeff Eats "did" a story on the Dune Deck–a breakfast/lunch joint located on the public beach in Lantana. That 2008 "review" is reprinted below…
Just so you know, the Dune Deck in Lantana is one of Jeff Eats' favorite breakfast joints…I would bet that over the past 5 years, I've eaten something like 40 breakfasts there. Can't remember each and every meal, but I can't recall even-one bad outing at this joint. Its menu is packed with all kinds of breakfast stuff, salads, burgers and sandwiches. For you guys not-familiar with the Dune Deck in Lantana…it is basically a covered-outdoor patio joint right on the Lantana beach….the Dune Deck draws "tons" of people every day and in "season" the tourists make it a nightmare-wait for "us" regulars.
Anyway…
About two months ago, the folks that own the Dune Deck opened "another" breakfast-lunch joint—Dune Deck Mimosa Café in Boynton Beach. From what I can tell, they took over a bagel-joint that was there…soooo Dune Deck Mimosa Café looks "just" like a bagel-joint (and I know that "you" guys know what a South Florida bagel joint looks like).
Anyway…
The other morning, Jeff Eats and some of his buddies- had breakfast in the Dune Deck Mimosa Café and I gotta tell you that this joint has the "same" great food and service as the one in Lantana…the only difference, the Boynton joint (which is in a strip center)–doesn't have the terrific Atlantic Ocean patio views that the Lantana outpost does. Now- nothing for nothing… we will soon find out if the "ocean views" are a necessary factor in the Dune Deck success equation. Personally, Jeff Eats thinks that the food/service alone will make the Boynton joint a huge winner…time will tell on that!
You can check Dune Deck's Mimosa Cafe's menu/prices at www.ddmimosacafe.com.
Dune Deck Mimosa Café is open 7 days a week 7:30am-4pm.
Here's the February 15, 2008 "story."
***** Dune Deck Cafe, 100 North Ocean Boulevard, Lantana Florida–(561) 582-0472
Over the years, I have eaten breakfast in this breakfast-lunch joint at least 20 times. Located directly on the beach, this tee shirt/shorts joint has great food, great service and beach atmosphere which is why we all live down here in South Florida. Don't miss this one.