DiY Frozen Yogurt (Boynton Beach)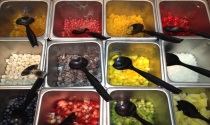 ***** DiY Frozen Yogurt, 524 East Woolbright Road, Boynton Beach, Florida 33435, (561)733-8221.
Got a real-good… self-serve yogurt/sorbet joint for you—DiY Frozen Yogurt in Boynton Beach. Something like 14 different yogurt/sorbet flavors, all kinds of toppings, 42 cents an ounce.
Checks DiY's menu/photos at website www.frozenyogurtdiy.com.
Between you-me and the bedpost, these self-serve yogurt joints are literally a dime-a-dozen down here in South Florida…In Jeff Eats' case, they are kinda a huge blur—like, they are all basically the same…remember that Bill Murray movie "Groundhog Day?"
Anyway…
Mrs. Jeff Eats wanted to give this one a shot, soooo a couple of nights ago- we gave it a shot. Clean as a whistle…great looking setup…loads of flavors (chocolate and vanilla were delicious), tons of toppings and a very-very upbeat and pleasant staff.
Nothing for nothing…
The way Jeff Eats sees it—if I'm gonna eat this stuff, I might as well get-it at a joint that seemingly wants my business.
DiY is open Monday-Saturday 10am-11pm, Sunday 11am-10pm.