Kerry's By The Sea (Hallandale Beach)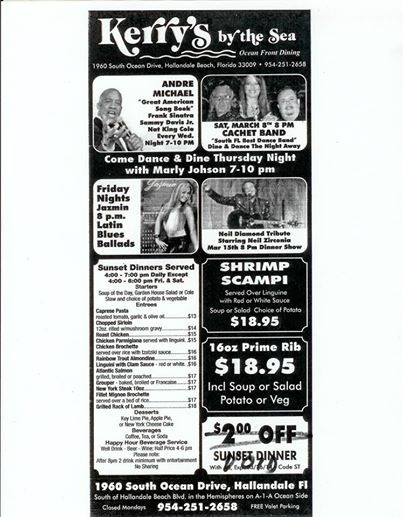 ***** Kerry's By The Sea, 1960 South Ocean Drive, Hallandale Beach, Florida 33009, (954) 251-2658.
Got something that you may like, that is… if you don't mind "shelving" your tee shirt/shorts ensemble and putting on a pair of pants…Kerry's By The Sea an "American Style" joint in Hallandale Beach.
Take a look at www.facebook.com/pages/Kerrys-By-The-Sea/320815304694367 for menu/prices/photos/entertainment schedule.
What makes Kerry's By The Sea an interesting "play" is that in addition to -good food- on various nights it features live music. Just so you hipsters out there know…Jeff Eats isn't talking "electronic dj music" but rather doo wop groups, Motown cover bands, Nat King Cole type tribute artists…
Kerry's By the Sea's menu has plenty of reasonably priced- appetizers, salads, pastas, meat/chicken/seafood entrees. A recent Jeff Eats/Mrs. Jeff Eats/and another couple "outing" had us doing a fried calamari appetizer ($10), full rack of baby-back-ribs ($19-came with soup or salad, potato, vegetables), 24oz bone-in-rib-eye ($30-came with soup or salad, potato, vegetables), grilled mahi mahi ($19), zuppa de peche ($28 red sauce, clams/mussels/shrimps/scallops/lobster)—like I said 6 seconds ago, good food.
Just so we are straight, by no stretch of the imagination is Kerry's By The Sea a fancy-schmancy gourmet joint.
Let Jeff Eats try to explain…
Kerry's is a "package" deal—food/service/décor/entertainment. You go to "a" Kerry's for good conversation, good food, a "just miss" semi-upscale décor, live music- entertainment.
Look! Jeff Eats and Mrs. Jeff Eats (when we lived in Brooklyn in the 1970s-1980s) were literally raised on the Kerry's of this world. Joints like these -to us- are cool…they throw off a certain vibe that makes for a wonderful night out… No huge expectations about anything…just an easy going evening.
I kinda think that you-Jeff Eats' readers 55+ who lived in NYC in the 70s-80s appreciate what I'm trying to convey here…I'm even willing to bet, that you've been to a load of "Kerry's" in your day.
Jeff Eats loved Kerry's.
Kerry's is open 7 days a week 4pm-11pm for dinner.