* Ground and Pound (Boynton Beach)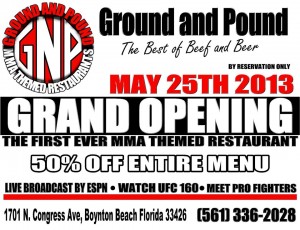 * Ground and Pound, 1701 North Congress Avenue, Boynton Beach, Florida 33426, (561) 336-2028.
Got an interesting story for you…
About 6 months ago, Jeff Eats met a guy named Bruce Thomas Bellocchi…at that time Bellocchi was seeking investors for a chain of restaurants–"Ground and Pound" that he was planning to build—these sports bar restaurants were going to be themed on mix martial arts/UFC (Ultimate Fighting Championship). At that time Bellocchi's "first" restaurant was under construction in a former Wings Plus location in Boynton Beach. If you do some Googling or Binging or whatever search you use—you will find a load of stuff on this guy Bellocchi…former heavyweight boxer who fought heavyweight contender David Tua, former professional martial arts fighter, former martial arts fighters' manager, former martial arts fight promoter, former martial arts fight tv commentator.
The Ground and Pound was Bellocchi's first venture in the restaurant business.
Anyway…
A few weeks ago the Boynton Beach– Ground and Pound opened for business.
Jeff Eats plans to give it a shot sometime in the next few weeks.
Just so you know-way back when, Jeff Eats "saw" the Boynton Beach site-under construction…loads of flat screen tvs, booth and table seating, separate bar area, all kinds of martial arts fighters' photos/murals/memorabilia. The business plan called for sports bar type food, wait staff in referee/ring card girl outfits, videos of mixed arts fights, live tv broadcasts of sporting events, personal appearances by celebrity martial arts fighters.
You can check www.eatgroundandpound.com for menu/prices/other stuff.
Let me wrap this up…
Jeff Eats doesn't follow- this mixed martial arts sport…but, I do know, that it has a HUGE following all over the United States. I am not sure as to whether or not there is a "market" for a restaurant (in Boynton Beach) themed solely around this sport…Another unanswered question: Can "this" former fighter/promoter/tv personality "create" a restaurant that has really good sports bar food?
Only time will tell…
For what it's worth…you guys now know about a new sports bar that literally just opened in sunny South Florida.
One final thought…now, I know you guys are smart guys—that said, if you just happen to eat at Ground and Pound and don't like the food or "whatever"–maybe you shouldn't mention your concerns to Mr.Bellocchi, after-all he did get in- the ring twice with David Tua. Capice!
If you try it, let me know what you think.