Mrs. Smokeys Real Pit Bar-B-Q (Lake Park)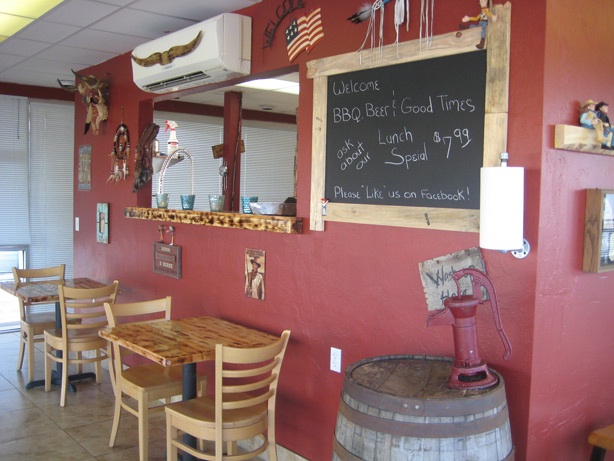 ***** Mrs. Smokeys Real Pit Bar-B-Q, 1460 10th Street, Lake Park, Florida 33403, (561) 318-5137.
This past Saturday afternoon…Jeff Eats and Mrs. Jeff Eats "attended" the PGA National Resort & Spa Second Annual Craft Beer Festival & Burger Bash…2,000 people/all kinds of burgers-specialty sandwiches/all kinds of beer/rock n roll band/great weather/outstanding PGA staff coordinating things—and I gotta tell you, we had an absolute blast. Do yourself a favor, plan on attending the Third Annual Craft Beer Festival & Burger Bash next year.
As I said 3 seconds ago, there were all kinds of burgers-specialty sandwiches…not to go into the "gory" details, but both Jeff Eats and Mrs. Jeff Eats really pigged-out. Just so you know, I personally made it my business to "try" every food item that was served-up—for sure there were one or two clinkers in the batch, but all-in-all the food was dynamite. Based on this outing, I now have a list of joints that I -plan on checking out… and down the road you'll get the reports.
Anyway…
I just wanted to tell you guys that one of the vendors—Mrs. Smokeys a Lake Park "mom & pop" bbq joint blew both Jeff Eats and Mrs. Jeff Eats away with its beef brisket sandwich (beef brisket/coleslaw/bbq sauce/toasted biscuit)…no fooling around here, one of the most delicious brisket sandwiches we have ever eaten. The sandwich was so good, that Jeff Eats had 2 -Mrs. Jeff Eats had 2 and she took 2 home…Hey! I told you that we pigged-out, didn't I? By the way, the sandwich I'm raving about- won the "Best Alternative Burger" category at the Bash.
To wrap this up…
You guys do know that Jeff Eats is a "shy guy" who talks to anyone who is still breathing. Just guessing here, but I must have spoken to at least 20 "locals" who told me that Mrs. Smokeys restaurant was an absolute must try…they told me that- if I thought that its brisket was terrific–I would go nuts for "her" bbq ribs, bbq chicken, pulled pork, mac n' cheese and home made apple pie. For you fancy-schmancy types, (from what I heard) Mrs. Smokeys probably won't work for you…order at the counter/delivered to your table—something like 20 seats inside and 14 outside, drive-thru-window…and tee shirt/shorts ensembles "almost" mandatory dress.
Now, Jeff Eats might be going out on a limb here, but based on that beef brisket sandwich alone– I think that you guys should definitely give Mrs. Smokeys a try…
You can check Mrs. Smokeys menu/prices/photos at www.mrssmokeys.com. The joint is open Monday-Saturday 11am-9pm, closed on Sunday.