Shula Burger (Delray Beach)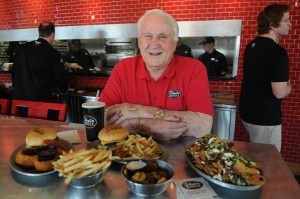 ***** Shula Burger (Delray Beach)
Back on May 21, 2013 Jeff Eats did a "story" about the Shula Burger which at that time was under-construction in the Delray Marketplace in Delray Beach. The story is reprinted below and an "UPDATE" has now been added–which covers a Jeff Eats "meal" at the fast-food hamburger joint (it opened 6/10/13). The "comments" which the original column generated are not included, so if you want to read them you'll have to go back and check the initial May 21, 2013-date…
*****
Let's do this one together…
In recent months- Jeff Eats has been "watching" Shula Burger being built at the Delray Marketplace in Delray Beach….this burger chain is "fronted" by Don Shula who was the Miami Dolphins' quarterback in 1970-1973…strike that, Bob Griese and Earl Morrall were the quarterbacks and Shula was the head coach.
Anyway…
This guy Shula- who incidentally was born on Januray 30, 1930 currently has his name on a "ton" of different restaurants here in South Florida and around the USA. In addition to the aforementioned (the lawyer in me) Shula Burger, Shula is involved with Shula's Steak House, Shula's 2, Shula's 347 Grill, Shula's Bar & Grill and Shula's On The Beach. For the researchers out there, you can check www.shula.com for details/menus/locations about the Shula restaurant empire.
Now back to Shula Burger which currently has 4 locations…Tampa, Kendall- Miami, Fort Lauderdale, Islamorada-Florida Keys…and a new location scheduled to open on June 10, 2013 in the Delray Marketplace, Delray Beach, Florida..
Now nothing for nothing…although Shula Burger has 4 locations, Jeff Eats has never eaten in one, nor met anyone who has eaten in one, nor met anyone who has talked about plans to eat in one.
Now to the point…
This afternoon, I stopped by the Delray Marketplace and took a close look at the physical layout of the almost finished restaurant. It's– a you order at the counter/they bring it to the table deal. The store looks absolutely dynamite with inside and outdoor patio seating. The menu features burgers with all kinds of toppings, fries, hot dogs, salads, shakes, beer & wine. Take a look at www.shulaburger.com for menu/prices/locations/photos–this way you'll know what Jeff Eats considers a dynamite-look, because you may not—different strokes for different folks!
Anyway…here's the plan.
1. For those of you who have already eaten in a Shula Burger, please give Jeff Eats the skinny on it (before June 10, 2013 would be nice).
2. Jeff Eats is gonna try #5 right after it opens.
3. For those of you who haven't eaten at a Shula Burger, either eat at one of the first-4 or try #5 right after it opens on June 10, 2013.
4. We all meet back here on June 15, 2013 to compare notes.
And…should you be captured, Jeff Eats will deny any knowledge of this mission.
One final note…since Coach Shula will soon be celebrating his 84th birthday to give you some perspective, I thought you guys would like to know that the first White Castle opened in 1921, the first MacDonald's opened in 1940, the first Burger King opened in 1954, the first Sonic Drive-In opened in 1953, the first In-N-Out opened in 1948 and the first Wendy's opened in 1969…and you thought that Jeff Eats was just another pretty face.
***** Update-June 14, 2013 *****
The new Shula Burger in the Delray Marketplace opened for business on June 10, 2013. Jeff Eats and Mrs. Jeff Eats gave it a "shot" last night (6/13/13).
As Jeff Eats' "original" article indicated- the joint is a very handsome-modern looking fast-food restaurant…there is both inside and outdoor patio seating. You order at the counter/servers bring the food to your table.
Shula's menu is loaded with burgers/toppings, a couple of sandwiches, a hot dog, a handful of salads and sides, shakes, beer/wine. You can check menu/prices at www.shulaburger.com
The skinny—Jeff Eats had a Shula Burger ($6.49-American cheese/shaved lettuce/tomato/pickle)—Mrs. Jeff Eats had a turkey burger ($7.99-turkey patty/baby greens/tomato/red onion/herb mayo)…we shared an order of French fries ($2.49), sweet potato tots ($3.99), onion rings ($4.29)…every item was real good/timely-delivered/hot.
Let me wrap this one up for you this way…
Shula Burger can definitely hold its own against most of South Florida's fast-food burger players (not going to list them, but you guys know who they are). For sure, Jeff Eats thought that $4.29 for 3 onion rings was a bit to pricey–but then again-Shula's French fries ran circles around the crinkle cut fries that Jeff Eats recently had at Shake Shack's Boca Raton outpost. Look! I could sit here all-day and nit-pick things about every player in this space…suffice it to say, I would definitely eat at Shula Burger in the Delray Marketplace-again.
Nothing for nothing…
Since this is a Jeff Eats "story" you do "know" that my inner-self is saying…"Hey Jeff Eats, the Delray Marketplace is going to be a fiasco-white elephant, can Shula Burger really make-it there? To my inner-self… For right now, let's leave it- that if things are based solely on food, Shula Burger should be just fine!