* JUMP THE SHARK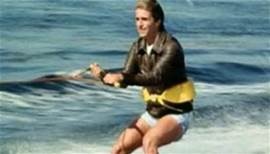 * JUMP THE SHARK
From Wikepedia:
"Jump the shark" redirects here. For the TV series episodes, see Jump the Shark (The X-Files) and Jump the Shark (Supernatural).
Look up jump the shark in Wiktionary, the free dictionary.
Fonzie on water skis, in a scene from the Happy Days episode "Hollywood, Part Three of Three", after literally jumping over a shark
Jumping the shark is an idiom created by Jon Hein that was used to describe the moment in the evolution of a television show when it begins a decline in quality that is beyond recovery, which is usually a particular scene, episode, or aspect of a show in which the writers use some type of "gimmick" in a desperate attempt to keep viewers' interest.
In its initial usage, it referred to the point in a television program's history when the program had outlived its freshness and viewers had begun to feel that the show's writers were out of new ideas, often after great effort was made to revive interest in the show by the writers, producers, or network.[1][2][3]
The usage of "jump the shark" has subsequently broadened beyond television, indicating the moment when a brand, design, or creative effort's evolution loses the essential qualities that initially defined its success and declines, ultimately, into irrelevance."
*****
I don't know about you guys, but Jeff Eats thinks that self-serve yogurt stores, gourmet fast food burger joints, cupcake stores have all "jumped the shark."
Maybe- I'm being way too cynical here…but I really-believe that most people couldn't give a rat's ass when a new yogurt/burger/cupcake joint opens. The novelty, the newness, the freshness of these store-openings is GONE! I don't care if it's a Shula Burger, Five Guys, BurgerFi, Yogurtland, Menchies, Auntie Anne's—"we" Americans are tired of cookie-cutter fast food businesses. For sure, there will always be exceptions to the rule, like Shake Shack in Boca Raton where there are daily lines—but that's the rare bird!
Not trying to be a philosopher here or nothing…but Jeff Eats thinks that it's time that America's "fast food" entrepreneurs opened "one-off" joints that get the public's juices flowing again…
If you guys think that Jeff Eats is wrong here—how "excited" would you get if I told you that a brand new Five Guys was opening 2 minutes from your home, or that a brand new Yogurtland was opening 3 minutes from your home? Get my point?
Now I don't have all of the answers, but Jeff Eats thinks that America is "over franchised"—and I really believe that the recent huge success/growth of the FOOD TRUCK industry indicates that people want innovative fast food concepts. The trick here, is to see if these original one-off concepts can successfully convert into brick and mortar joints.
I'll leave you with one last thought…
Guy Fieri and Adam Richman's have huge tv show-followings/ratings because they "find" one-off joints that people are literally dying to try…you'll notice, Fieri and Richman don't visit the Wendy's, Burger Kings, McDonald's, Checkers, Quiznos, Subways that dot America's landscape.
As it now stands, America's fast food industry has "jumped the shark."