* Harlem Shake–Talk About Timing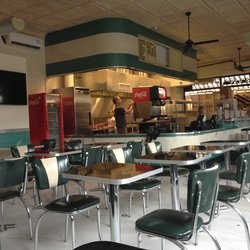 * Harlem Shake–Talk About Timing
Talk about tremendous timing…a couple of weeks ago, a retro-50's burger joint named Harlem Shake opened at 100 West 124th Street, New York, New York 10027. As a matter of fact its Grand Opening Party is scheduled for tomorrow June 13, 2013. You can check menu/photos at www.harlemshakenyc.com. For those of you who aren't into checking, think Johnny Rocket's and you'll know exactly what the joint looks like.
Anyway…
From what Jeff Eats can tell, Harlem Shake was "well underway" construction-wise long before the current Harlem Shake internet dance craze hit the airways…
Talk about "lucky" timing and amazing free publicity…
Sometimes things just happen and that's what "most" of life is all about.