PS 561 (Food Truck)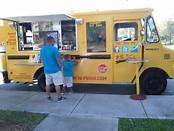 ***** PS 561 (Food Truck).
Real fast one…
Jeff Eats recently caught-up with food truck– PS 561 which specializes in grilled hot dogs…
Printed below is what PS 561 says about itself (www.ps561.com):
"Reminiscent of an old public school bus up north, Ps561 is a mobile food truck catering to the hungry "kids" of South Florida. Described as the perfect hot dog, the one you remember growing up, Ps561 dogs start with 100% all beef, all natural New York style Sabrett hot dogs (straight outta' the Bronx, baby!) and all soy "Smart" brand veggie dogs, then we throw them into an expertly buttered and grilled New England style hot dog roll (ya know, like ya use for a lobstah roll!) and top them with the freshest, most eclectic, and unique toppings you've ever seen! These dogs are truly "too good for the lunch line!"
Browse our sweet new website to see the menu, latest blog postings, and where and when you can track us down. Ps561 specializes in casual event catering from birthday parties to major festivals and offers an array of pricing and menu options to accommodate the appetites and wallets of any and all event planners. For custom menu and pricing for your next dog-worthy shindig, contact us and and provide us with any event info such as type of event, guest head count, and your personal dog budget.
Find Ps561 at the coolest events and locations all over the area, or just casually parked on the side of a busy street somewhere. Keep up with the latest by adding Ps561 on Facebook and Twitter. We'll see you on the street!
Like PS561 on Facebook!
Follow PS561 on Twitter!
Get in touch with PS561!
Stalk us down and find out when PS561 will be slinging delicious dogs near you!
Stalk us down and find out where PS561 will be slinging delicious dogs today!
Stalk us down and find out when PS561 will be slinging delicious dogs near you!"
*****
Sorry guys–you're gonna have to figure-out as to exactly where PS 561 will be hanging-on any given day down here in sunny South Florida.
All that Jeff Eats can tell you–is that this joint's grilled hot dogs are DELICIOUS!
Just so you know, PS 561 has all kinds of toppings for its "dogs"…that said, Jeff Eats being the purist that he is- does his dogs…mustard/sauerkraut.
By the way, when you visit PS 561's site, check-out the blog that its owner Aaron writes. The guy has some real good restaurant picks and opinions on assorted other stuff.
Last but not least, for you non-former New Yorkers out there…in NYC—PS stands for Public School (just so you know- in case we ever go on the Newlywed Game Show together, Jeff Eats went to PS 179)…and Sabrett Hot Dogs is the "legendary" brand that almost every NYC hot dog push-cart carries—That's your NYC Tutorial for today! Oh! I almost forgot- a New Yorker never-puts ketchup on a hot dog unless there is something definitely wrong "upstairs."