Your Pie (Lighthouse Point, Tampa, Fleming Island)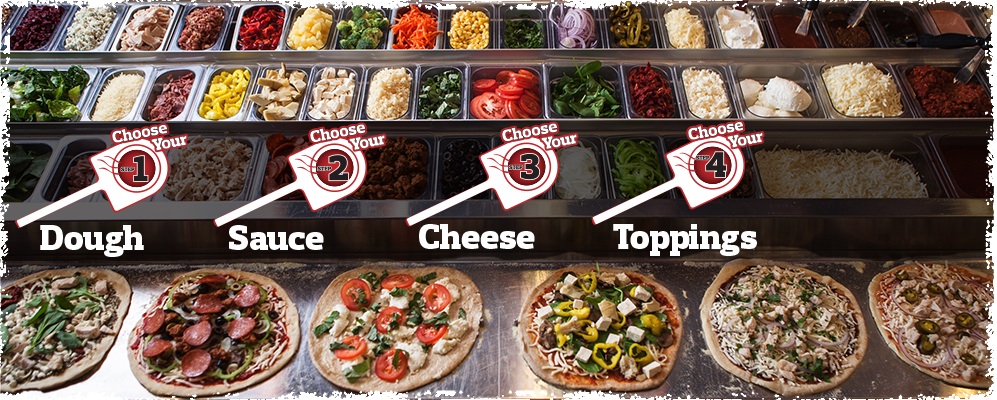 ***** Your Pie, 3650 Federal Highway, Lighthouse Point, Florida 33064, (954) 532-1531.
If you guys do some checking, back on December 29, 2011 Jeff Eats did a story "Uncle Maddio's Pizza Joint"…the jist of the story, that you should be on the lookout for a new fast food concept— "design your own" pizza joints.
Well- it (the concept) took awhile to get to South Florida—yesterday afternoon in Lighthouse Point Jeff Eats "saw-tried" Your Pie a franchise operation which currently has 11 in Georgia, 2 in South Carolina, 1 in Tennessee, 3 in Florida. The Light House joint has been open for something like 3 weeks.
This article isn't going to dwell on the business feasability of the "design your own" pizza industry…personally, Jeff Eats thinks that wannabee players in this sector ought to think long and hard about how similar fast food concepts like —yogurt by the ounce, design your own hamburger are doing- before getting into this business.
Anyway…
Your Pie is the first fast food "design your own" pizza joint that Jeff Eats has actually eaten in.
At this stage of the discussion, take a look at www.yourpie.com—for menu/prices/photos.
The concept is real easy, think Subway and you'll be on the right page. The customer picks the dough and toppings and the counter person "makes" a 10″ pizza which is baked in a brick oven. At Your Pie, you order at the counter and your pie is delivered to your table…mine took about 10 minutes to get to me—by the way there were 4 other people eating in the joint at the time. Your Pie's basic cost is $7.49 with most of the toppings being thrown into the deal—certain ones cost an extra buck.
In addition to pizzas, Your Pie has bread bowl salads, panini and gelato.
The taste test– the plain margherita pizza I ordered–had a nice thin crust and a very tasty sweet sauce. Jeff Eats also had a pistachio gelato which was very good.
When you guys go to You Pie's site, you'll find a handful of pictures. For quick reference, a handful of booths all with flat screen tvs, handful of tables/chairs both inside and outside…and of course there is the counter where you order—and the showcase of toppings which you pick from.
Your Pie looks like a "small" neighborhood sports bar.
Your Pie is open Sunday-Thursday 11am-9pm, Friday-Saturday 11am-10pm.