Mr. M's Sandwich Shops (Dania Beach)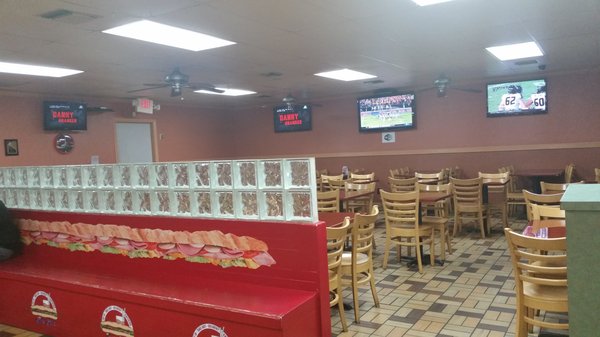 ***** Mr. M's Sandwich Shops, 1975 Stirling Road, Dania Beach, Florida 33004, (954) 925-6400.
First told you about Mr. M's way-back on August 5, 2010. Let's call this one an "out of sight out of mind" joint. Hadn't been back since that original write-up first appeared…
Mr. M's Sandwhich Shops…real good sub-joint in Dania.
Jeff Eats recently did a lunch at Mr. M's and I gotta tell you this joint makes some absolutely delicious subs…"tested" tuna salad, chicken salad, chicken parm, turkey club were all right on the money.
Mr. M's is sorta like a Dania institution…the joint has been around for something like 34 years—and if you check YELP, TRIP ADVISOR and other review-web sites you'll literally find legions of reviewers who swear by Mr. M's. Now–unless all these "guys" are shills…Jeff Eats' thinking is–the joint must be doing something right!
At this stage of the game you can check www.mrmssubs.com for menu/prices/photos. For you guys who aren't into the checking game, Mr. M's got all kinds of hot/cold 6″ and 12″ subs, sandwiches, wraps, salads, soups—price points $4.79-$10.99 on the subs/wraps/sandwiches.
Okay–time to wrap (pun intended) Mr. M's up…
In his day- Jeff Eats has eaten his fair share of subs, heroes, grinders (insert your "regional" preference) and I kinda think I know when top quality stuff is being served…with that in mind, if I was a betting man–my money would say, that Mr. M's Sandwhich Shops used top-shelf ingredients/freshly baked breads to make the delicious subs that I recently scarfed down.
Now, for the $64,000 Question:
Why is the joint called Mr. M's Sandwich Shops?
If Jeff Eats got his facts straight, in the 34 years that Mr. M's has been around, it has only-had one location…so where does the "s" in Shops come from? Now I wasn't that strong in junior high school English, but Jeff Eats was taught that an "s" on the end of a word like SHOP makes the word plural…
Anyway…give Mr. M's a shot—its subs are really good.
Mr. M's is open Monday-Saturday 8am-8pm, Sunday 11am-6pm.