Bobby Rubino's (Pompano Beach)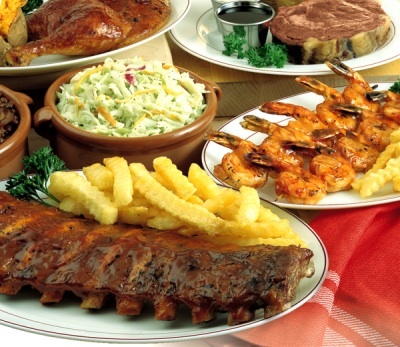 ***** Bobby Rubino's, 2501 North Federal Highway, Pompano Beach, Florida 33064, (954) 781-7550.
Haven't really got the time or inclination to tell you Bobby Rubino's story…suffice it to say, Bobby Rubino use to work for Tony Roma's which was a South Florida bbq ribs/chicken chain, then Bobby Rubino in 1978 opened his own bbq ribs/chicken joint naming it Bobby Rubino's—over the years Bobby and Tony were huge competitors each with loads of South Florida locations…not sure on Tony Roma's dimished numbers—but today, there is only one Bobby Rubino's location left and it's-in Pompano Beach, Florida.
Now…
For whatever it's worth, for something like 30 years—old Jeff Eats has been a huge Bobby Rubino's fan…delicious sweet sauced ribs/chicken, french fries, onion rings, corn—never empty soda glasses.
Real simple…loads of food at really reasonable prices. If your looking for upscale-gourmet-fancy schmancy this joint ain't for you. Just so we are straight, the last outpost is kinda on the dated 1970's looking side–so like Jeff Eats said 2 seconds ago, fancy schmancy is a definite no-no here.
Anyway…
If Bobby Rubino's sounds like something that might interest you, do yourself a GIGANTIC FAVOR and go to its website www.bobbyrubinos.com—you'll find menu/prices, you'll also find a bunch of coupons that will allow you to literally eat like a pig for virtually nothing.
In all fairness to you guys, Jeff Eats in recent years had lost "contact" with Bobby Rubino's—and it was Rubino's recent advertisement/coupons in the Sun Sentinel that reunited "us."
To wrap this one up…my favorite coupon:
DINNER FOR 2 -$20 plus 1 beverage purchase.
Includes:
1 appetizer–onion loaf
2 entrees–full rack babyback ribs or rib/chicken combo
2 sides
1 dessert
Bobby Rubino's is open 7 days a week for lunch and dinner.