Spadini's Pizzeria (Boca Raton)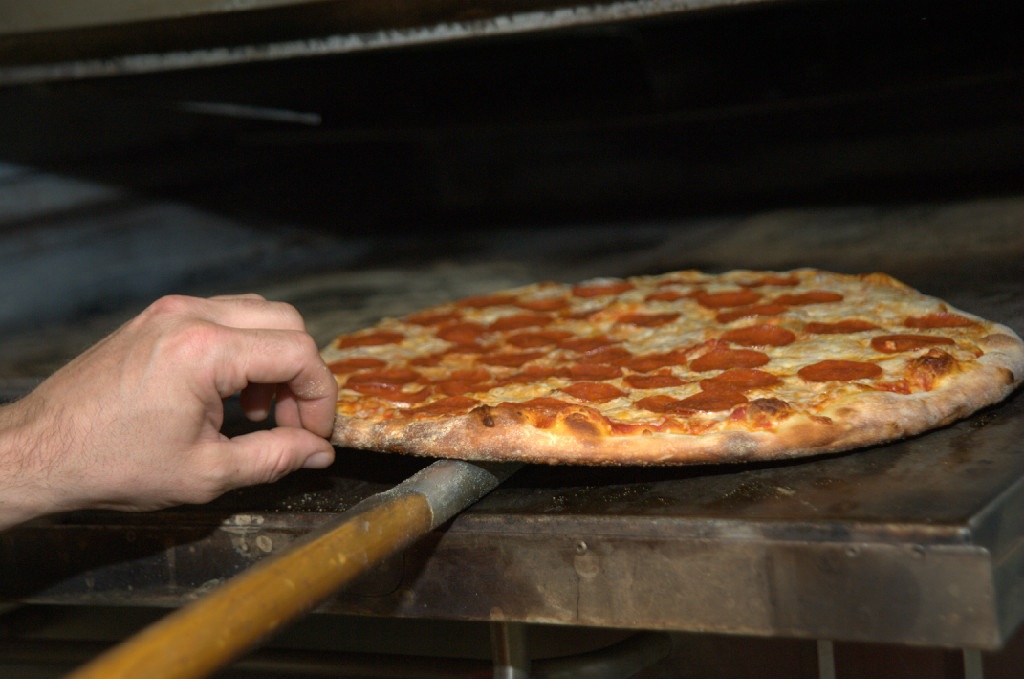 ***** Spadini's Pizzeria (Boca Raton)
Early this morning, Jeff Eats told you guys about Spadini's Pizzeria, 134 Northeast 2nd Avenue, Boca Raton, Florida 33432, (561) 826-7420. The jist of that "article" was that Jeff Eats had heard terrific things about this relatively -new pizza joint (it opened in February 2013) and had "plans" to give it a shot in the near future. That original article is down below.
To make a long story short…
Jeff Eats and Mrs. Jeff Eats decided to take food out tonight.
Items ordered… chopped salad (large $9.50), 16″ plain pizza (Wednesday Night Special $8), chicken parmigiana hero ($9.95), sausage & peppers hero ($8.95), penne alla vodka ($11.95)…and I gotta tell you, everything we had was delicious. A special shoutout to the pizza—let's just say, that Spadini's knows how to make a real New York Slice—thin crust, delicious sweet sauce, great tasting mozzarella. By the way, the heroes were big enough to feed two people–and featured a really tasty-lightly toasted bread.
Spadini's Pizzeria is an absolute "hole in the wall"—a few tables inside and even fewer outside. You order at the counter/you pickup at the counter.
Based on the food that Jeff Eats and Mrs. Jeff Eats "had"—Spadini's is right up there with the best "mom & pop" red sauce joints in sunny South Florida.
You can check menu/prices at www.spadinispizzeria.com.
Finally, Spadini's has a whole bunch of "specials"—like $8- 16″ pizzas on Wednesday and buy 2 heroes and get 1 free on Monday…so "ASK" what "deals" are on the table-before you order…Capice!
*****
Nothing for nothing…
Jeff Eats is hearing amazingly-fabulous-incredible "things" about a relatively new Boca Raton pizza joint…Spadini's Pizzeria.
Just so we are straight with each other, Jeff Eats hasn't gotten to the joint yet, but at least 7-maybe 11 or maybe it was 13 people (who have eaten there) told me that this "hole-in-the wall" turns out some of the best New York Style pizza/subs/other stuff that they have had- since migrating down here from Brooklyn, New York– Montclair, New Jersey–Hartford, Connecticut– Pittsburgh, Pennsylvania– Cortland, New York–Chicago, Illinois.
Being a top notch "reporter"- this morning Jeff Eats called Spadini's Pizzeria and spoke to its owner 31 year old Thomas Sellick. Sellick told me that he has lived in South Florida for about a year and prior to coming down- he learned his "craft" working in his family's Northport, New York (for those who don't know, that's part of Long Island) pizza joints. He told me that he opened for business on February 7, 2013—just so you know, Sellick bought out Mizner Plaza Pizza (reviewed 11/28/12), 134 Northeast 2nd Avenue, Boca Raton… did a drop of cosmetic surgery—and with new recipes and menus in hand re-opened as Spadini's Pizzeria. Sellick told me that he has the same seating as Mizner Plaza had-that being a handful of tables inside and a handful outside. He also said-the joint works on an "order at the counter/pickup at the counter" system–but if you "want" he or one of his "guys" will bring the food over to your table.
Anyway…
Like I said, Jeff Eats is hearing terrific things about Spadini's Pizzeria. If you get there before I do, I'd apprecaite hearing your thoughts.
You can check Spadini's website www.spadinispizzeria.com for menu/prices/photos/other stuff.
Spadini's Pizzeria, 134 Northeast 2nd Avenue, Boca Raton, Florida 33432, (561) 826-7123—is open Monday-Saturday 11am-11pm, Sunday noon-9pm.
The 64,000 Dollar Question:
Are the opinions of the folks from Montclair, Hartford, Pittsburgh, Cortland and Chicago-to be trusted on what consitutes top-notch New York Style pizza? We "know" that the Brooklyn folks are qualified, but-the others?—Jeff Eats is just asking!