*** The Lovin' Spoonful @ Mardi Gras Casino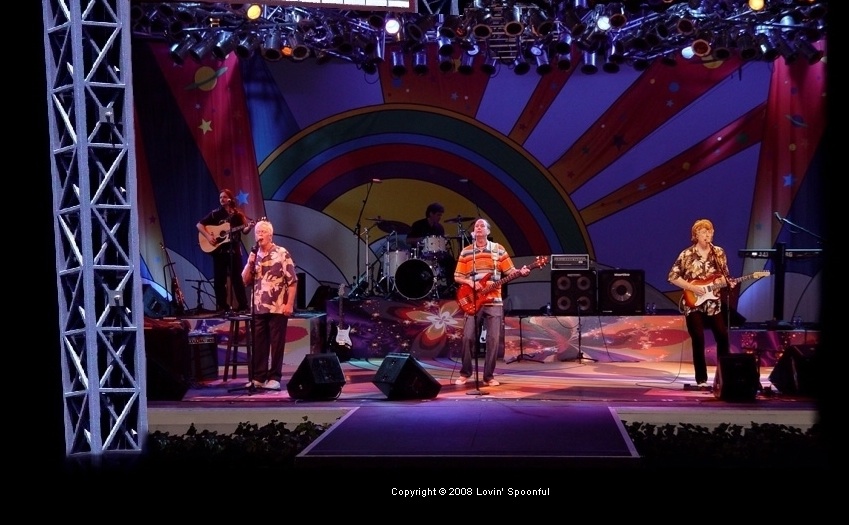 *** The Lovin' Spoonful @ Mardi Gras Casino
Tomorrow night, Tuesday–May 14, 2013 at 8pm one of the 60's legendary bands- THE LOVIN' SPOONFUL- is going to be making an "out door" appearance at the Mardi Gras Casino in Hallandale Beach…tickets are $10, $15, $25. You can buy tickets online at www.mardigrascasinofl.com. By the way, ticketholders (special offer) can enjoy the casino's French Quarter's buffet $14.95 for $10.95. For those of you who haven't been to the Mardi Gras Casino–it's located at 831 North Federal Highway, Hallandale Beach…For more info give Mardi Gras Casino a call at (954) 924-3200.
You guys do- know that Jeff Eats is kinda like an "expert" on 50s-60s Rock N Roll…and I'm telling you that The Lovin' Spoonful who had such mega hits as "Do You Believe In Magic" and "Summer In The City" were/and still are one of the greatest bands to ever grace a concert hall's stage. Now for sure, legendary frontman John Sebastian is no longer with them…but the current lineup featuring original members/Rock N Roll Hall Of Fame members- Joe Butler and Steve Boone will definitely have the crowd "tripping" back in time…Jeff Eats recently saw "this" group and I am telling you, they are absolute dynamite.
If you are a fan of 60s Rock N Roll music, don't pass-up the opportunity to see The Lovin' Spoonful.
You do know that- The Spoonful and many of "us" aren't getting any younger…
For you researchers out there…The Lovin' Spoonful's website www.lovinspoonful.com got all kinds of info/pictures/schedules/stuff- about the group.
Finally, in reviewing the Mardi Gras Casino's website Jeff Eats notes–that prior to the concert (6pm-7pm) there will be a "60's Costume Contest" with the winner taking home $1,000 and 2nd place catching $500–all contestants get $20 in Bonus Play (registration ended May 12th)—-sounds like the entire evening is going to be a retro-blast. Just so you know, a few years back Jeff Eats attended the Mardi Gras' "70's Disco Costume Contest" and had a great time watching the costumed contestants disco-dance to covers by The Shindigs Band.
Just a bet (pun intended)—tomorrow night is going to be awesome fun!
***** May 15, 2013 Update….
Last night Jeff Eats and Mrs. Jeff Eats saw The Lovin' Spoonful in action at the Mardi Gras Casino in Hallandale Beach…and I gotta tell you, the band put on a fabulous show.
For those of you who didn't get there, this was an outdoor concert…seats were $10, $15, $25. Rather than going into minute-detail, this is basically a "first come" seating deal—some of the seats were on the lower level of the dog-track and others were in the grandstand. Jeff Eats' cataract corrected eyes "told" him that there were about 800 people in the audience—and EVERY SEAT WAS GOOD.
The band took to the stage at 7:58pm and played for something like an hour/fifteen minutes. They played every one of their hits and also did covers of The Association's "Never My Love"–The Byrds' "Mr. Tamborine Man"–The Left Banke's "Walk Away Renee"…despite the fact that original lead singer- John Sebastian is no longer with the group—original members Joe Butler and Steve Boone and "almost" original Jim Yester (the group started in 1965-he joined them in 1967) did exceptionally credible versions of the songs and had the crowd rock n rolling…the highlight of the evening was when the entire crowd -got to its feet as the band played "Do You Believe In Magic"….following the show, there was a "Meet & Greet" with the band–and I must tell you–the band members are some of the most engaging guys you'll ever meet. They signed everything, literally answered every question and took countless pictures. The Mardi Gras' staff did a great job–producing/running this event.
Jeff Eats and Mrs Jeff Eats "took" a look at the $10.95 special-discount buffet that was-offered to concert goers…We didn't have "time" to try "it"—one of these days Jeff Eats will get you guys a review on the French Quarter's buffet. I will tell you– Jeff Eats did see a number of concert-goers heading into the buffet right after the show ended. You wise-guys out there may right about now be saying… Hey Jeff, how did you know those heading into the buffet had been to the concert? To you, Jeff Eats says…because they were still wearing the purple wrist bands that they needed to get into the concert, so there!
Let me wrap this up…Terrific weather (in the low 70s), great seating, terrific band—a perfect night out.