***** Euphoria *****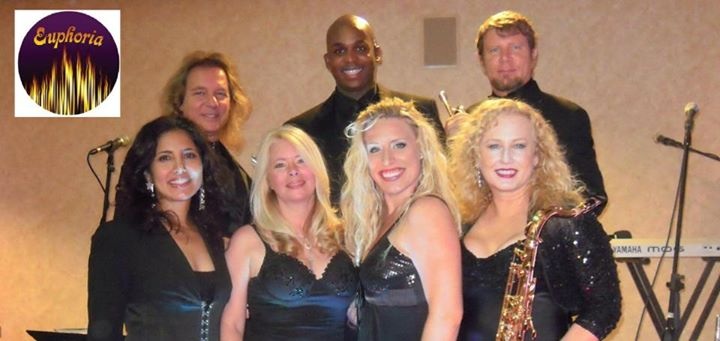 ***** Euphoria *****
Believe it or not, Jeff Eats is a "huge" party animal…
With that in mind, I just wanted to tell you guys about a terrific local party band—"Euphoria" which I recently saw at the Woodfield Country Club in Boca Raton. This 7 piece band (4 females-3 males) features a female drummer and covers songs from the 1940's-today.
Nothing for nothing, but over the past 20 years down here in South Florida, Jeff Eats has literally seen hundreds of party bands/rock bands…what made Euphoria "demand" a special mention in a Jeff Eats' column (other than the fact that drummer is my daughter—just kidding!) is that the group went non-stop for 3 straight hours, tailored a playlist that catered to a crowd of over 600 people ranging in age from 18 to 90, and seamlessly played perfect covers of Dion's "Runaround Sue"–Journey's "Don't Stop Believin'"–Adele and Lady Gaga's current top 40's hits…All 7 members "sing"–and the group has terrific crowd interaction.
If you check Jeff Eats' "background"—you will find that I have been involved in the music/entertainment industry for close to 45 years—I am telling you that it's extremely rare for me not to find one single person who didn't love this group…now for sure, Jeff Eats didn't poll everyone, but I did speak to the "hardest" critics of the lot—and they raved about Euphoria.
So…you now know about a terrific party band.
You can check Euphoria's website www.euphoriaband.com for playlists/schedules/pictures-videos.