PDQ (Oakland Park, West Palm Beach, Tampa)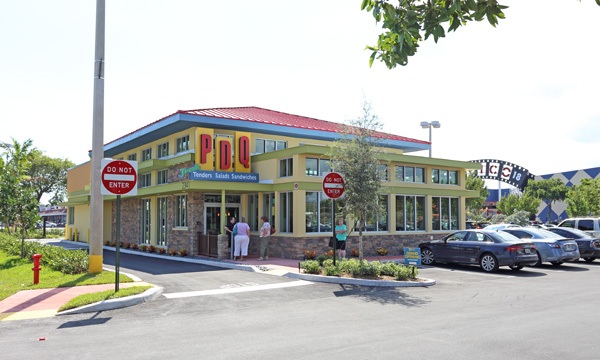 ***** PDQ (People Dedicated to Quality), 2015 Okeechobee Boulevard, West Palm Beach, Florida 33409, (561) 594-1906.
On April 30, 2013 Jeff Eats told you guys about PDQ a "new" fast-food/casual chicken chain–that is scheduled to open its West Palm Beach location on Sunday, May 5, 2013. The April 30, 2013 writeup is reprinted "after" today's "thoughts."
For the record, this afternoon Jeff Eats "ate" at a Family & Friends outing in the West Palm Beach store and I gotta tell you, this joint is going to be an absolute homerun.
Before I tell you about my "meal"—for what it's worth, I don't really care for the name PDQ. To me, the letters P D Q really don't convey what this joint is all about. Nothing for nothing, but the owners of this business have created a fast food/casual hybrid…think Panera Bread and you may appreciate where I'm going with this. What they "got" is an order at/pick up at the counter fast food restaurant that looks like an upscale sports bar. I loved the look of the joint (and yes, it's got a load of large flat screen TVs) but if you do some checking, many people use the term PDQ to mean "fast" or "right away"…that said, I think the last thing that PDQ wants is for you to think of its food as being "fast food" The store is logoed with big letters that say, "People Dedicated to Quality"–so Jeff Eats sees where the PDQ comes from (actually if we wanted to get technical here it should be PDTQ)…personally, I wouldn't have used PDQ because to a great number of people PDQ means "other" things. Jeff Eats' personal favorites -Pretty Damned Quick and Pennies Dimes Quarters.
Now that Jeff Eats has pontificated on the PDQ name…let's talk food.
First let me start by saying, this 4,200 square foot free standing building is absolutely great looking…it has a drive thru and looks like something right out of the Florida Keys. There is also a huge open kitchen and you can see everything being prepared. In talking with the its founders (who by the way, created the Outback Steakhouse chain) everything is freshly made and the restaurant has no freezers. While there, Jeff Eats got a kick out of watching the staff squeeze 100s of lemons for the fresh-squeezed lemonade—For you wise-guys out there, yes! I got a kick out of watching, nothing sinister, lewd or whatever your devious minds maybe thinking!
Jeff Eats "tried" the tenders, hand cut fresh French fries, chicken Caesar salad, fried chicken sandwich, turkey breast sandwich, grilled chicken sandwich, chocolate shake, apple slices with toffee—and I'm telling you, every item and I do mean every item was delicious. For the record–the food was "on the house"…which made it "easy" to literally order almost every menu item. If I got one bitch, I thought that the fries had just a drop too much salt on them—trust me, that one little itsy bitsy "problem" is easy to cure. Just a quickie, if you take a look at Jeff Eats' 1/19/2007 Outback Steakhouse "review" note the salt-complaint… Goes to show you, Jeff Eats and the guys running this joint are consistent, if they are anything.
Check www.eatpdq.com for menu/prices/locations/pictures.
In talking to management, there are currently 4 Tampa, 2 North Carolina, 1 Oakland Park, 1 West Palm Peach PDQs…and "for" our purposes-2013-2014 planned locations-Wellington, Boca Raton and Pompano Beach.
Let me wrap this one up this way…
Based on what I saw, ate and heard PDQ is going to develop into a major national chain. The guys behind this deal know exactly what to do and how to do it…that is if they–
Just lose the salt shaker…
*****
April 30, 2013
PDQ's menu features lightly fried chicken tenders/sandwiches, grilled chicken and turkey breast sandwiches, salads, French fries and shakes.
Just a quick heads-up…Jeff Eats is "hearing" tremendous things about a brand new-fast food chicken chain PDQ which currently has 4 Tampa/1 Oakland Park/1 West Palm Beach/2 North Carolina locations.
Haven't tried the joint out yet, but some buddies of mine-told Jeff Eats that PDQ (Oakland Park) makes amazingly delicious grilled chicken/fried chicken tenders/turkey/salads/fries/shakes. One caveat, three of those buddies way back when- thought that the Edsel was going to be a homerun and the fourth guy to this very day-claims that aliens abducted him in 1989.
As I mentioned 4 seconds ago, there is one location in Oakland Park…this coming Sunday-May 5th, PDQ is opening a second South Florida location in West Palm Beach.
Check www.www.eatpdq.com for menu/locations.
For what it's worth–the chain is owned by one of the guys who created the Outback Steakhouse chain. Nothing for nothing, a few quick conversations with a handful of fast food/casual restaurant developers–had them figuring that PDQ had a real shot to develop into a major chain. The consensus was, that PDQ may appeal to a huge segment of Chik-fil-A's customer base that is looking for a more diversified menu. Throw in 4,500 square foot stores/with drive thrus that are open on Sunday—and just maybe, PDQ has the formula to be a homerun-chain.
Jeff Eats is gonna check this one out…if you get there before I do, let me know what you think.