***** Gigi's Music Cafe *****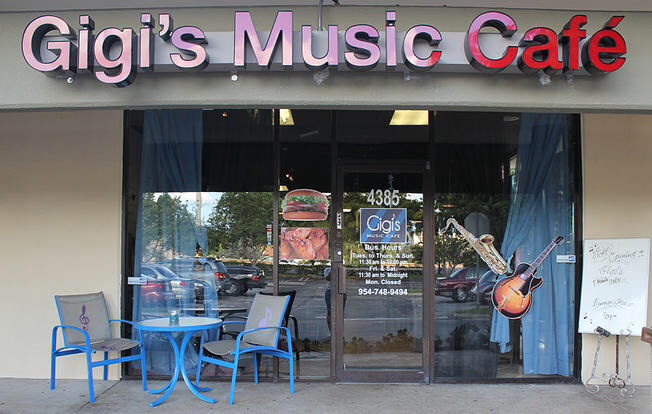 ***** Gigi's Music Café *****
In recent weeks, Jeff Eats has been hearing some terrific things about a store-front "soul food" joint in Sunrise…
Gigi's Music Café, 4385 Northwest 88th Avenue, Sunrise, Florida 33351, (954) 748-9494.
From what I understand the joint has great food and all types of entertainment from poets to rock bands to magicians…not so "sure" about the poet-thing, but Jeff Eats loves a good rock band not to mention a good magician..
For what it's worth, I've heard that Gigi's fried chicken/waffles dish is simply amazing.
Jeff Eats hasn't had a chance to check this joint out…just thought that some of you might like to beat-me there (like-get there before I do, not jump-me when I get there!).
Take a look at www.gigismusiccafe.com for menu/and other particulars.
One final note, a few months ago Jeff Eats caught the stage show of an absolutely dynamite "magician" Remy Connor www.theremyconnor.com…from what I understand Remy "works" Gigi's on a regular basis—so maybe you can kill two birds with one stone–if you know what I mean!!
Gigi's Music Café is open Monday-Wednesday 11am-9pm, Thursday 11am-11pm, Friday-Saturday 11am-midnight, closed on Sunday.