Valentino's Italian Cuisine (Pompano Beach)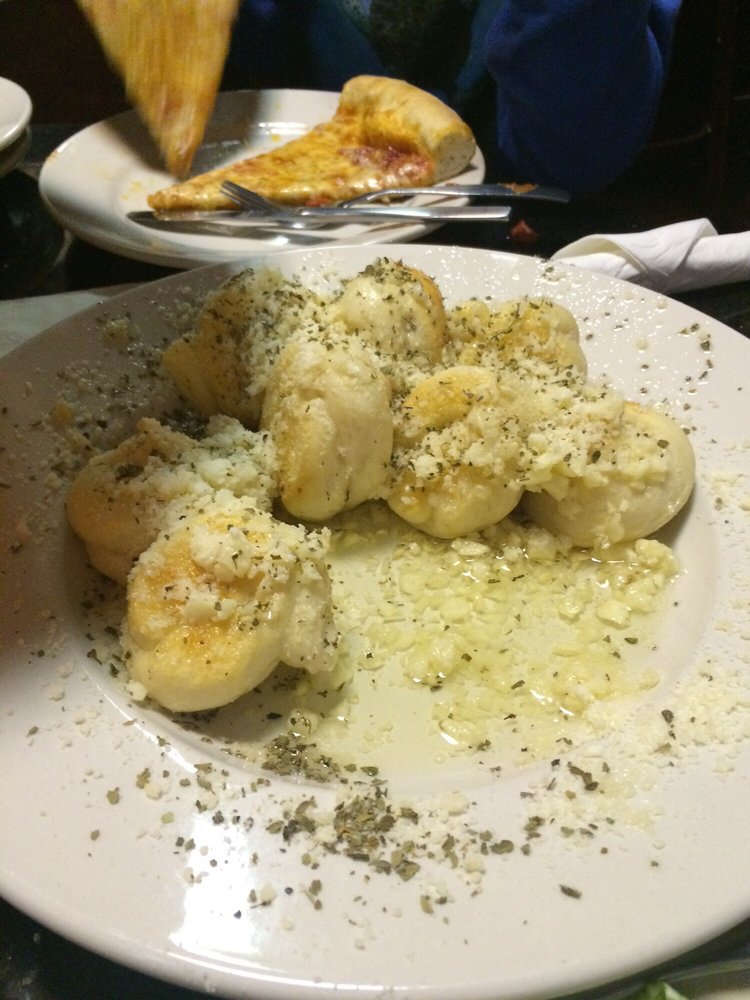 ***** Valentino's Italian Cuisine, 427 South Federal Highway, Pompano Beach, Florida 33062, (954) 545-4881.
Got something really good for you guys, Valentino's Italian Cuisine…a Pompano Beach- red sauce Italian "hole in the wall" wedged in-between a Starbucks and a Tijuana Flats.
Last night, Jeff Eats really didn't do a head-count, but I'm thinking about 30 seats inside and 40 seats outside…the outdoor patio which faces Federal Highway is shared by all three restaurants -each restaurant has distinctively marked seating. As for Valentino's inside décor…the obligatory Goodfellas' posters, large standard pizza oven, large brass colored cappuccino machine, dark wood tones—no kidding around- a very cool looking joint.
Another no-kidding around- Valentino's is owned and operated by a guy originally from the Bronx named Rudolph Valentino. For you "youngsters" out there, Rudolph Valentino (not the owner of this joint) was a famous movie actor back in the day–when motion pictures had no sound. Totally off topic, but did you guys know that Fred Astaire Dance Studios still has locations all over the United States? Amazingly, there is one in a second floor loft in east-Boca Raton…For those of you "not following" the Astaire commentary, Fred use to dance with Cyd Charise—but that's whole nother story.
Anyway…Jeff Eats, Mrs. Jeff Eats and another couple "ordered" 16″ large plain pizza ($12.75), eggplant parmigiana (garlic rolls, soup or salad, pasta side–$9.85), chicken parmigiana sub ($7.50), lasagna bolognese (garlic rolls, soup or salad–$12.95)…and I gotta tell you-the food was absolutely delicious. Trust me on this–every item ordered, was as good as the stuff served by South Florida's best "red sauce" players. The joint's portions were large and dirt-cheap. For those of you who like garlic rolls, Valentino's were dynamite—and a complimentary order of sauteed green-beans (not on the menu) received rave reviews from Mrs. Jeff Eats and her girlfriend Judy. While you guys are still here, let me briefly mention the pizza…From what I understand, there are 3 chefs in the back of the house–but all pizzas are made by Rudy Valentino right in front of the customers. As he explained…"I'll make you whatever you want, but my signature pie is a thick crust with the rest of the pizza being very thin and crispy." For what it's worth, when the pie was delivered to our table it looked "amazing"…just as Rudy said—a thick crust (sort of like a deep dish look) with a fabulous sweet sauce/thin crispy "triangle."
At this stage of the game, you can check www.valentinositaliancuisine.com for menu/prices.
For a little more "color"—Valentino's has been open something like 4-months and in addition to pies- sells pizza by the slice. All of its desserts are made in-house. Some of you guys maybe wondering why Jeff Eats & Company didn't "get" dessert…long story short, literally minutes before eating at Valentino's we had picked up 2 dozen freshly baked donuts from The Dandee Donut Factory which is right around the corner from Valentino's, blah blah, blah!
What Jeff Eats found particularly interesting, was that Valentino's is open Sunday-Thursday 11am-midnight and Friday-Saturday 11am-2am…apparently, Mr. Valentino is looking to build a late night crowd.
Valentino's is a real good one…do yourself a big favor and give it a shot. The bet here, is that you won't be disappointed…
Jeff Eats does have one "bitch" about the joint…on both its menu and website, Valentino's prominently features the saying "You've tried the rest…now try the Best!"- hey Rudy, for crying out loud-that saying is as worn as my 89 year old Aunt Joanie's house dress…I know I ain't got no skin in this game, but I'd lose the phrase. You got a spanking new -great looking joint with terrific food and YOU got me thinking about my Aunt Joanie's house dress- capice!
Finally…
For you tourists out there–your tee shirt/shorts/flip flop ensembles will work perfectly at Valentino's Italian Cuisine.