***** Sushigami *****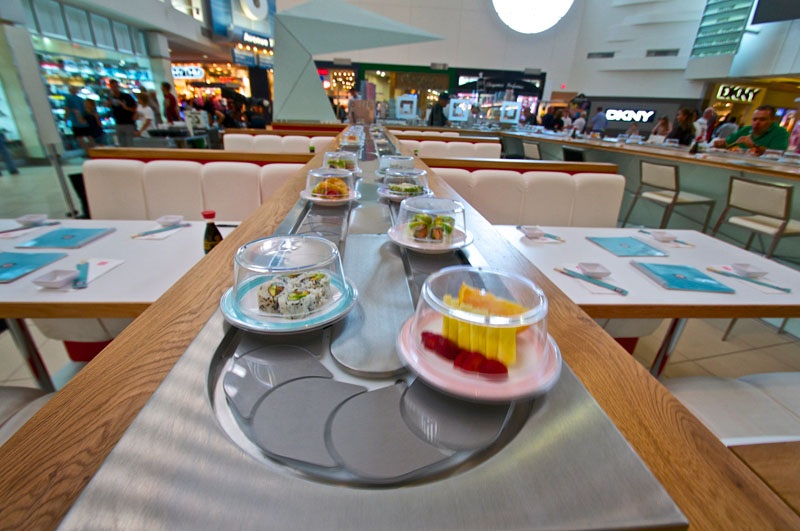 ***** Sushigami *****
Yesterday afternoon Jeff Eats was in Sawgrass Mills, 12801 West Sunrise Boulevard, Sunrise, Florida 33323 and came across a fast food concept that I thought you guys might like to know about…Sushigami (954–835-9070). For you folks out there who don't know what Sawgrass Mills is…just imagine every regional mall and discount outlet in the world under one roof. For a point of reference Sushigami is located right in front of the Forever 21 store.
Anyway…
While walking around this seemingly endless mall, Jeff Eats spotted Sushigami a fast-food sushi joint and it "blew" me away…Picture a huge oval counter with seating—in the middle of the oval is an open sushi kitchen where you can "see" the prep work…running along the entire counter is a conveyor-belt system which delivers various sushi/food items to seated customers…customers pick what they want by removing item(s) from the conveyor belt…the items' plates are colored coded and there is a wait-staff that roams the perimeter billing customers based on the number of plates selected and the plates' respective colors.
Trust me on this one, this Sushigami "thing" was really cool…at 4pm on a Sunday it was jammed with people waiting to get a counter seat. Jeff Eats didn't count the seats- but I'm gonna guess that there were at least 75. Rather than my knocking myself trying to fully explain Sushigami– take a look at www.simon.com/mall/sawgrassmills/stores/sushigami there are a whole bunch of photos and you do know what they say about one picture, don't you?…For those who don't–and I quote…"One picture is worth a thousand words."
Let me close by saying…
Jeff Eats- eats and has eaten all over South Florida. I've been to all kinds of food joints…I've heard and read about countless restaurant business concepts…
I just want you guys to know, that Sushigami was one of the most creative-dynamic fast food businesses I've seen in a very long time. For sure, this concept can't be plopped down just anywhere, but in the right high-traffic location- this business will find a gigantic customer base.
Just so you know, Jeff Eats didn't "try" Sushigami's food… I briefly look at its color-coded menu–but in all honesty, it was the joint's physical layout and creativity that really caught my eye.
One final caveat, Jeff Eats is smart enough to know that…
If Sushigami's food isn't good and priced right…no matter how cool the stainless steel conveyor-belt looks, it will end up as scrap metal in some yard-somewhere!