Butcher & The Burger (Boca Raton)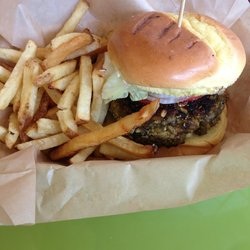 Butcher & The Burger, 6000 Glades Road (Boca Town Center), Boca Raton, Florida 33431, (561) 416-5554.
Do you know what the saying "Dead on Arrival" means? Sure you do!
Last night Jeff Eats and Mrs. Jeff Eats went to Boca Town Center to "try-out" Butcher & The Burger a new "gourmet" fast food burger joint which opened a couple of days ago in the mall's food court.
For color, Jeff Eats was following up on a "tip" from Son Jeff Eats who had recently eaten in the Butcher & The Burger located in Chicago. Son Jeff Eats had reported delicious burgers/hand-cut fresh French fries/shakes. For the record, Butcher & The Burger has 1-free standing store in Chicago and the Boca outpost is its second outing.
Now, you guys know that Jeff Eats is a simple guy (I know what some of you are now thinking)…anyway-I was looking for a cheeseburger/French fries/Coke. According to the joint's sign-board, that trio would have cost Jeff Eats $8.95 for the burger, $4.25 for the fries (small order) and Coke—throw in 6% sales tax and Jeff Eats' meal would have run $13.99—Mrs. Jeff Eats' turkey burger-side salad-Diet Coke would have run $13.78 (she has always been a cheap date). The owners of this joint must be kidding! For crying out loud, this is a food court fast food outing—$27.77 for this meal is absurd.
Just a word to the wise, if Jeff Eats thinks that Butcher & The Burger's prices are too high—go to the bank-that most folks walking around that food court are gonna think the same thing.
DOA!!!
Let me wrap this one up for you…
Butcher & The Burger may have delicious food…but this meal didn't "happen" because of price. One other thing that caught my eye, Butcher & The Burger's shakes run $6.50—while Chik-fil-A (in the next-door booth) gets $3.69 for its shakes (yes! I know that you can't get Chik's shakes on Sunday)…
Butcher & The Burger is opened 7 days a week during mall hours.
You can check menu/pries at www.butcherandtheburger.com.