***** Papaya King & Gray's Papaya *****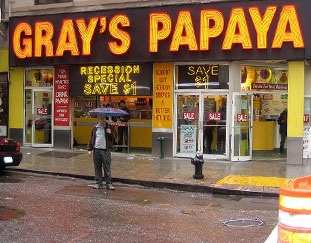 ***** Papaya King & Gray's Papaya *****
In recent days-Jeff Eats has received a number of e-mails concerning his "thoughts" on what fast-food concept "he" would bring to South Florida.
Jeff Eats aims to please, so here goes…
Now nothing for nothing, I think that Papaya King www.papayaking.com and Gray's Papaya www.grayspapayanyc.com would kill-it down here in South Florida.
For the non-New Yorkers here…both Papaya King and Grey's Papaya are "famous" NYC hot-dog stands that sell hot dogs and a "health" drink called papaya. Check their respective websites for menu/prices and loads of photos.
For what it's worth, neither Papaya King or Gray's Papaya have expanded in any meaningful way from their original locations.
Now nothing for nothing, in the right location—Jeff Eats thinks that either concept would be a homerun. For example I'm thinking South Beach…
Jeff Eats hasn't really studied the "franchising" possibilities for either brand…What I do know, is that if "licensing" the name is too expensive, a VARIATION ON THE NAME/THEME is a real possibility…something like Queen Papaya, NYC Papaya, Papaya Joe, Papaya Dogs…I'm sure you guys get the picture here.
So there you have it, Jeff Eats' brainchild…one caveat, this thing only works where there is tremendous amount of foot traffic.
Your thoughts are appreciated.