***** Every So Often Old Jeff Eats Gets It Right *****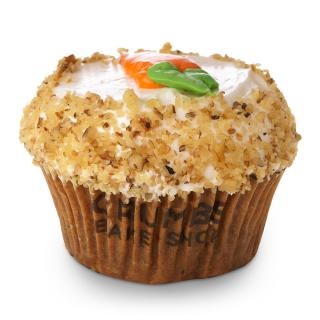 ***** Every So Often Old Jeff Eats Gets It Right *****
Below, is an article from today's Wall Street Journal.
Like I said 2 seconds ago, every so often old Jeff Eats gets it right. Take a look at Jeff Eats' story CRUMBS BAKE SHOP dated 8/8/12. Go figure!!!
*****
Forget Gold, the Gourmet- Cupcake Market Is Crashing
Sales at gourmet cupcake maker Crumbs have softened lately.
.
The icing is coming off America's cupcake craze.
The dessert became a cultural and economic phenomenon over the last decade, with gourmet cupcake shops proliferating across the country, selling increasingly elaborate and expensive concoctions.
The craze hit a high mark in June 2011, when Crumbs Bake Shop Inc., CRMB -17.65%a New York-based chain, debuted on the Nasdaq Stock Market NDAQ -1.03%under the ticker symbol CRMB. Its creations—4″ tall, with fillings such as vanilla custard, caps of butter cream cheese, and decorative flourishes like a whole cookie—can cost $4.50 each.
Vote and comment
..
After trading at more than $13 a share in mid-2011, Crumbs has sunk to $1.70. It dropped 34% last Friday, in the wake of Crumbs saying that sales for the full year would be down by 22% from earlier projections, and the stock slipped further this week.
Crumbs in part blamed store closures from Hurricane Sandy, but others say the chain is suffering from a larger problem: gourmet-cupcake burnout.
"The novelty has worn off," says Kevin Burke, managing partner of Trinity Capital LLC, a Los Angeles investment banking firm that often works in the restaurant industry.
Crumbs now has 67 locations, nearly double the number it had less than two years ago. "These are singularly focused concepts," says Darren Tristano, executive vice president at Technomic Inc., a Chicago research and consulting firm that specializes in the food industry. "You're not going to Crumbs every day."
"It's a short-term trend and we're starting to see a real saturation," he adds. "Demand is flat. And quite frankly, people can bake cupcakes."
Enlarge Image
image
Closeimage.
Crumbs last week warned that it now expects 2013 sales to reach about $57 million, sharply off its previous estimate of $73 million.
Husband-and-wife entrepreneurs Jason and Mia Bauer opened the first Crumbs bakery in 2003 on Manhattan's Upper West Side. Today, the company, which also sells $42 "colossal" cupcakes that serve six to eight, is one of the largest players in the gourmet-cupcake industry, with locations in at least 10 states and the District of Columbia.
Crumbs went public in June 2011 after a shell company bought it. The buyer, 57th Street General Acquisition Corp., had raised money the previous year for its Crumbs purchase. 57th Street changed its name to Crumbs Bake Shop shortly after the merger.
Some investors appear to have been spooked when Crumbs last week disclosed it had to raise $10 million in financing. Crumbs recently signed a term sheet to sell not less than $10 million in convertible promissory notes to a company controlled by the family of Michael Serruya, a Canadian entrepreneur and co-founder of Yogen Fruz, a chain of 1,300 frozen yogurt stores in 35 countries.
Related Video
Gold's Fair Value Is $800 an Ounce
.
Mr. Serruya disputes the notion that gourmet cupcakes are losing their appeal. "I don't believe that for a second," he said. "This category isn't going away, the category is here to stay. We wouldn't have committed our money to this deal, if we believed otherwise."
The transaction "will give us the money to execute our plans to move into the suburban mall arena where we have experienced growth," said Julian Geiger, president and CEO of Crumbs. "The decreases in business are in the metro markets where the stores have existed for quite a while."
As a business, making cupcakes has a relatively low barrier to entry and the field has become saturated with competitors, including individual bakeries, chains and grocery stores. Gigi's Cupcakes USA, based in Nashville, Tenn., has opened 85 stores in 23 states since 2008 through its franchising system.
Crumbs rivals include people like Cynthia Hankerson, owner of the three-year-old Cupcake Salon in Jersey City, N.J. Sales at her bakery cafe are slipping and she said she suspects the cupcake fad may be waning. Last year, a typical Saturday brought in an average of $600 to $700 in sales for her signature cupcakes, which come in flavors like pistachio, amaretto vanilla and strawberry banana. But now "we're lucky if we get $300," she says. "People get tired of things," the 42-year-old adds.
Even so, at least two other specialty cupcake businesses have opened up in her area within the past year, selling cupcakes at higher prices. "It's very competitive," she says.
Demand for gourmet cupcakes exploded in the early 2000s after Magnolia Bakery, another popular New York cupcake chain, was featured in the HBO series "Sex and the City." The sweet treats have since become central characters in TV shows like the Food Network's "Cupcake Wars" and TLC's "DC Cupcakes."
Magnolia, now with seven stores in urban areas of North America and four overseas, remains consistently profitable through "close attention to managing expenses," according to Sara Gramling, a spokeswoman. Sales are up over last year, she said, though she declined to say by how much. Less than half of sales at the closely held company are cupcakes, which cost up to $3.50 each. The remainder are desserts such as cheesecakes, pies and pudding.
In the Crumbs earnings report last week, Mr. Geiger said the Sandy-related closures cost the company $700,000 in lost sales in the last quarter of 2012. Crumbs also indicated that certain locations "incapable of reaching acceptable levels of financial performance" would need to close. The report didn't specify how many might close.
Jiordan Castle, a former Crumbs assistant manager, says the New York outlet where she worked from 2009 to 2010 was "pretty disorderly." While the company says its cupcakes are baked fresh daily, "it doesn't mean the cupcake you're eating was made that day," the 22-year-old says.
Crumbs' Mr. Geiger said, "I dispute the allegation that the cupcakes are not sold fresh."
Crumbs perhaps grew too fast into suburban markets that couldn't support the brand, suggests John Gordon, principal at Pacific Management Consulting Group, a restaurant-industry analysis firm. "There are only 15 to 20 metro areas in the country where it would work," he says of the gourmet concept. "There is only so large of a market."