Pummarola (Boca Raton)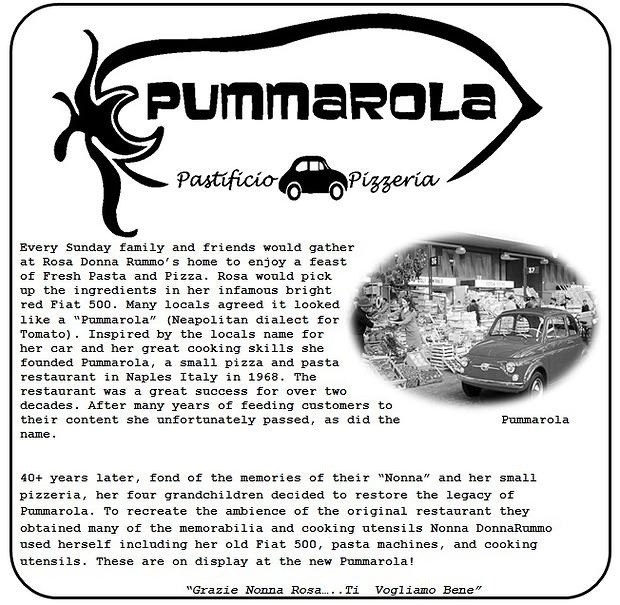 ***** Pummarola, 6000 Glades Road (Boca Town Center), Boca Raton, Florida 33431, (561) 368-1868.
Just got back from having "lunch" at Pummarola…which is a relatively new Italian fast food joint located in the food-court at Boca Town Center.
Let me start by saying–Pummarola's food was fabulous.
The joint's menu is real simple—personal-sized wood fired pizza ($5.50-$8.50), panuozzo (pizza crust bread with fillings–$8.50), calzones ($8), pasta ($7-8), handful of sides ($3), handful of desserts ($3.50). At this stage of the conversation-you can check www.pummarola.us for full menu/prices/photos.
Now nothing for nothing, over the years- Jeff Eats has literally eaten in tons of Italian fast food mall joints…and I gotta tell you, that Pummarola's food ranks right up there with the best that I've ever had…I'll even go so far and tell you folks, that Pummarola's food is as good as most of the stuff served at the best "mom & pop" red sauce Italian joints here in South Florida and elsewhere…I'll even go on record and tell you, that Pummarola's food is as good if not better than the stuff served at most of South Florida/elsewhere's "upscale" Italian joints.
Right about now, some of you guys may-be saying…"Jeff has lost his mind or something."
Trust me on this one…the "sampled" margherita pizza, chicken milanese panuozzo, fettuccine bolognese, gnocchi alfredo, spaghetti & meatballs, eggplant parmigiana–were absolutely positively delicious. Like Jeff Eats said 14 seconds ago, this joint's food could easily go head to head with the best Italian stuff out there.
If I got my facts straight, Pummarola has only been open a few months…During the half-hour (3pm-3:30pm on a rainy Saturday) that Jeff Eats was in the food court–the joint did a nice steady business, but I definitely didn't see long lines at the counter. The real concern that I have with Pummarola is that the guys who own it aren't business-men…food guys yes!–business-men no! The reason I say this, is that Pummarola is located in a "double space" in the food court…and my pencil to napkin calculations tell me that the rent has to be something like $35,000 a month—and $35,000 a month is an enormous load of pizza/panuozzo/calzone/pasta. In addition, the space "features" a Fiat-car as a decoration…talk about pissing away valuable real-estate! I sure hope Jeff Eats is wrong here-because the food is tremendous…but I really think that Pummarola's owners might have bit (pun intended) off too much to chew.
Putting "finances" and a car aside for a moment…
I'm telling you guys that you gotta check this joint out.
Pummarola is open 7 days a week during mall hours.
***** May 7, 2013 UPDATE
Just a quick update…
Since Jeff Eats' April 13, 2013 "review" I and Mrs. Jeff Eats have eaten twice "at" Pummarola with the last outing being this evening—and I gotta tell you that my first impression still holds—the food is absolutely dynamite. Just wanted to mention that after you have finished eating this joint's pizzas, pastas and sandwiches—give its tiramisu, cannoli and crepes a shot…I sampled all three this evening- and they are as good as the stuff turned out by South Florida's best Italian bakeries.
Trust me on this..Pummarola is something very special.