***** GRILLED CHEESE—NEXT CRAZE? *****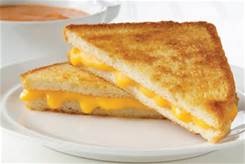 ***** GRILLED CHEESE—NEXT CRAZE? *****
During the past 90-days or so, Jeff Eats has been to several large-Florida malls…low and behold, a new fast food concept seems to be spreading into the food courts, namely "gourmet" GRILLED CHEESE. I did some checking and it appears that there are now-a handful of companies "selling" grilled-cheese franchises. The concept is "easy"—all types of bread/all types of cheeses/all types of fillings.
For what it's worth…the grilled cheese business seems kinda "narrow" for this Brooklyn Boy's business concept mind. Cute idea, but "anybody" can make a grilled cheese sandwich, so there really is no-financial bar to entering this business. Too many guys are gonna try this "business" out and it's going to be a real ugly game of grilled cheese musical chairs.
Now let me see…we "did" the gourmet burger thing, we "did" the make your own pizza thing, we "did" the yogurt by the ounce thing—and now we got, the gourmet grilled cheese thing.
Nothing for nothing…but Jeff Eats thinks that the Grilled Cheese "fast food" concept is what's called "a pig in a poke." Just a guess, but the guys buying these franchises- down the road aren't going to be happy campers.
Your thoughts.