Blue Willy's Barbeque (Fort Lauderdale)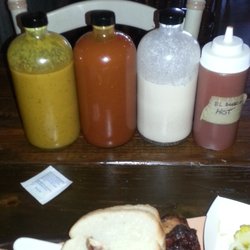 ***** Blue Willy's Barbeque, 613 Southeast 1st Avenue, Fort Lauderdale, Florida 33301, (954) 224-6120.
Blue Willy's Barbeque…food truck with a huge cooker in a parking lot. Handful of benches to eat at.
Some of the best "smoked" bbq that Jeff Eats has ever eaten.
A recent outing had Jeff Eats doing…Saint Louis ribs, bbq chicken, chopped pork, beef brisket. mac & cheese, French fries. Like I said two seconds ago—delicious bbq.
Blue Willy's offers something like 5-6 different sauces…Jeff Eats really liked the mustard based Carolina Style and the sweet tomato based Blue Willy's BBQ.
If I had to do a pecking order…beef brisket was off the chart as were the ribs…almost off the chart was everything else including the mac & cheese and French fries.
To wrap it up, really good smoked bbq stuff. If you want to "fine dine" this joint ain't for you. Don't wear your good tee shirt, because the sauce is gonna get all over it.
I loved Blue Willy's–which is open Monday-Friday 11am-5pm, closed Saturday & Sunday.