Azucar Ice Cream Company (Miami)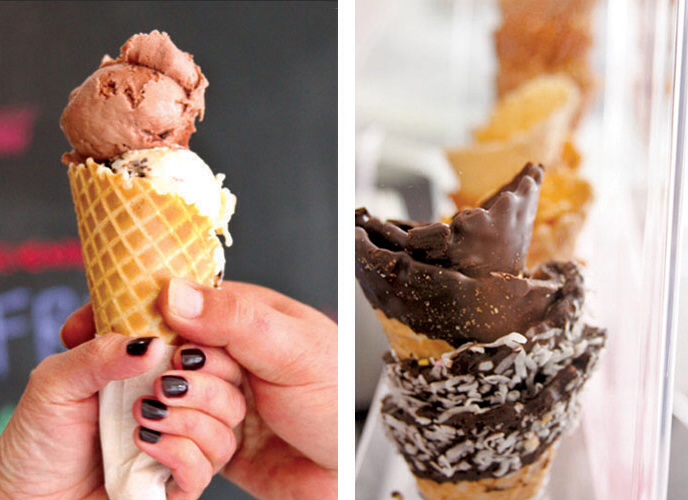 ***** Azucar Ice Cream Company, 1503 Southwest 8th Street, Miami, Florida 33135, (305) 381-0369.
Got a real good ice cream joint for you guys…Azucar Ice Cream Company in Miami.
Last week I had a chance to "try" Azucar's stuff out and I gotta tell you, some of the best tasting ice cream and sorbet that Jeff Eats has had in a very-very long time. Beautiful thing about this joint which has a "Cuban/Latin" flavor (pun intended) to it—is that all of the ice cream and sorbet are made in-house.
Strictly an order at/pickup at the counter operation…handful of tables inside/outside.
Jeff Eats didn't do the math, but the joint has something like 50 ice cream and 8 sorbet flavors. During the year, Azucar rotates various flavors in and out of the lineup. For you diabetic folks, dieting folks, anti-sugar folks—Azucar has a handful of sugar free ice creams. For those who aren't strictly "purists"—Azucar has something like 30 different toppings. Personally, I like my ice crean "unencumbered" except every so often Jeff Eats can handle some chocolate sprinkles (you may know them as jimmies)…Just in case "we" ever go on the Newly Wed Game, Jeff Eats really isn't a fan of multi-colored sprinkles.
You can check flavors/video at www.azucaricecream.com.
Jeff Eats' recent "taste test" included…strawberry–mint chocolate chip–Cuban coffee & oreo–Belgium chocolate–double cherry–heath bar crunch ice cream….lemon–watermelon–mango sorbet. Trust me on this one, all of the flavors were delicious with a special shout out to the Cuban coffee & oreo concoction.
Look! Jeff Eats is no ice cream-sorbet expert. Got no idea about fat-content or even a clue concerning other "scientific" measuring-sticks. What I do know, is that Azucar's stuff was right on the money…and that the ice cream and sorbet that I had was right up there with the best of breed.
Azucar Ice Cream Company is open Sunday-Wednesday 11am-9pm, Thursday-Saturday 11am-11pm.