Vandy's 5 Brothers Sports Bar and Italian Eatery (Marco Island)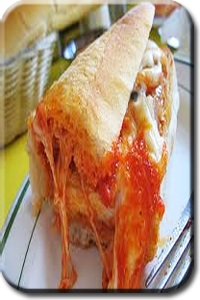 ***** Vandy's 5 Brother Sports Bar and Italian Eatery, 1089 North Collier Boulevard, Marco Island, Florida 34145, (239) 394-5100.
Let me start by saying…Jeff Eats absolutely loved Vandy's 5 Brothers.
The best way to describe Vandy's Brothers—sports bar meets red sauce "mom & pop" Italian joint.
You can check menu/prices at www.vandys5brothers.com. When you're on the site, there is a short video which tells you the story of how a "so-so" sports bar acquired a "dynamite" pizza joint—you'll also see what the joint looks like. One bit of "color" one of the owners was a first rate NFL place kicker…you'll get details from the video.
Vandy's has the requisite huge bar…flat screen tvs up the whazoo (every booth has one), young energetic wait-staff, bands, tribute shows (5 bucks a head), karaoke, Texas holdem poker.
The joint's menu is loaded with appetizers, pizzas, pastas, burgers, wings, hot/cold subs, salads, wraps, meat/chicken/seafood entrees. Just so you know, although the emphasis is on Italian "stuff"—everyone in your party is gonna find what to eat.
Now for the biggie…Is the food any good?
A recent outing had Jeff Eats "sampling"— large Greek salad ($8.50), large plain pizza ($15.75), large chicken-parm sub ($9.50), large meatball-parm sub ($9.50), meat lasagna ($15.50), broiled grouper sub ($11.99), large sausage/peppers/onions sub ($9.50). Let me make this short and sweet, the food was really good—and was a whole lot better than what many South Florida sub shops and pizza joints turn-out.
Vandy's 5 Brothers is a homerun or should I say field-goal!
I strongly recommend that you give this one a try.
Vandy's 5 Brothers is open 11:30am-2am 7 days a week.