El Tamarindo Pizza & Continental Cuisine (Deerfield Beach)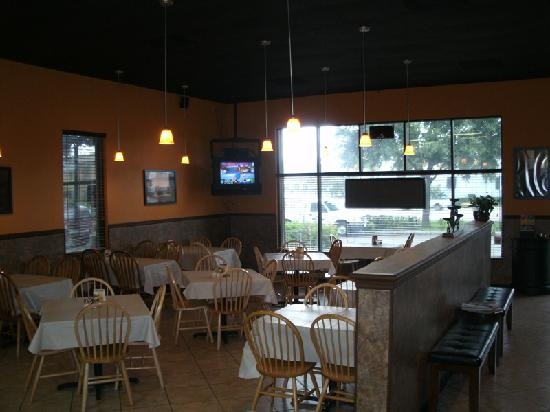 ***** El Tamarindo Pizza & Continental Cuisine, 614 Southeast 10th Street, Deerfield Beach, Florida 33441, (954)480-9919.
Got an interesting "one" for you guys…El Tamarindo Pizza & Continental Cuisine in Deerfield Beach.
To make a long story short…a Salvadorian guy named Nestor Amaya comes to South Florida in the late 1990s—and today…his wife, his brothers, his sister, his sons and daughter own 3 restaurants and are currently developing 4 other locations. The current locations are, El Tamarindo Pizza & Continental Cuisine, El Tamarundo Bistro & Bar Latin Café (this was the first location which opened in 2003 and is located on State Road 84 in Fort Lauderdale), El Tamarindo Coal Fired Pizza (Hallandale)…
You can check menus/prices/locations at www.eltamarindocafe.com. The restaurants in development are in Lighthouse Point, Aventura, Miami Beach, Pine Crest. Very interesting concept, all of the restaurants feature Italian, Mexican, Salvadorian dishes–but the menus although very similar- are all also "different"—for example, one joint has coal fired pizza, while another has "regular" New York Style pizza, while another location has no pizza at all. When you check the website, take a look at the menus—and you'll see what I'm talking about…The planned Lighthouse Point joint (El Tamarindo Café)-which is set to open in two weeks-will be the "family's" first venture into adding sushi to the menu-mix.
Anyway…last night Jeff Eats "tried" the El Tamarindo in Deerfield Beach. First, let me start by saying, the staff of this joint is one of the friendliest most hospitable crews that I've ever encountered. The "brother" Jackson who runs this particular outpost is one of the most pleasant and welcoming people I've had the pleasure to do business with. Now—the NY Style pizza was thin-crisp-delicious sweet sauce…the penne ala vodka was right on the money…the chicken soup was as good as anything Jeff Eats' mom use to turn out (and trust me, that lady really knew how to make chicken soup)…the grilled tilapia was dynamite…the mixed salad as fresh/crisp as could be…the prosciutto/mozzarella panini was off the chart. On the price front, figure about 11 bucks per dish and the entrees come with two sides.
I am telling you that El Tamarindo Pizza & Continental Cuisine is a homerun.
Just so we are straight, this "story" is about the Deerfield Beach joint (it opened about 8 months ago)…Jeff Eats hasn't tried the other locations. Call it a gut feeling, but my money says that the other locations are probably just as good- food/service-wise as the joint I was in. The passion that Jackson and his staff "have" is definitely a family-thing…
El Tamarindo is a must try.
The joint is open 7 days a week 11am-11pm.