***** Bacon Bites *****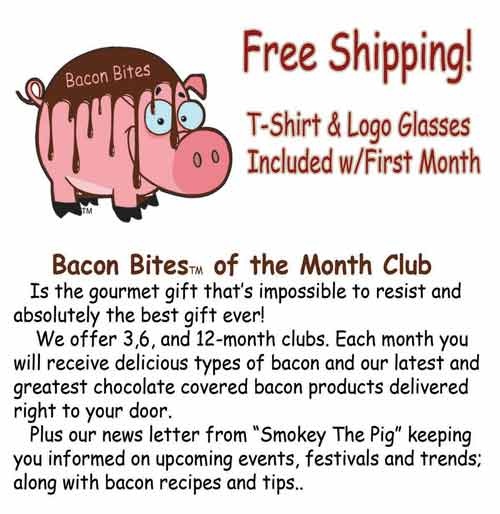 ***** Bacon Bites *****
Last Saturday night– Jeff Eats, Mrs. Jeff Eats and something like 5,000 of our closest friends attended Baconfest Florida 2013 at the Seminole Casino Coconut Creek…food, drink and music galore.
Didn't really get a count, but there must have been 25-30 vendors "passing out" all types of finger foods (burgers, wings, shrimp, sandwiches, salads, ribs, desserts) that incorporated bacon into their respective recipes.
Midway during the event, awards for the "best this" and the "best that" were announced…
Of note "1st Place Best Dessert" went to a New Jersey based company named Bacon Bites for its Peanut Butter Bacon…think-nice crisp strip of bacon–covered in delicious dark chocolate and topped off with a racing stripe of peanut butter–and you'll be in the ballpark.
You guys do know that Jeff Eats is a VIP- don't you? Well anyway, in addition to the "aforesaid" peanut butter bacon, Jeff Eats was also allowed to sample Bacon Bites' "Oreo" (Oreo Cookie covered in Bacon/Dark Chocolate), "Original" (bacon covered in dark chocolate) and "Carob" (bacon covered in carob)—and I gotta tell you, the stuff that Bacon Bites is making is absolutely delicious.
Bacon Bites is an online company…www.baconbites.com. (201) 724-0303.
The suggestion here, check-out the above website. The Company has some very unique "bacon" dessert products that it ships all over the country. When you are on the site, you will also find a whole list of retail stores that currently carry Bacon Bites' products. For our purposes, Bacon Bites has yet to crack the Florida retail store market –that said, based on my "sampling" I wouldn't be surprised to see its stuff on Florida shelves real soon.
Let me wrap this one up…very-unique delicious products!
Next time you're thinking—fruit basket, flowers, candy basket, cheese tray (assuming the intended recipient isn't kosher or vegetarian)—Bacon Bites' stuff will definitely be appreciated.