Tasty Wok BBQ & Noodle House (Orlando)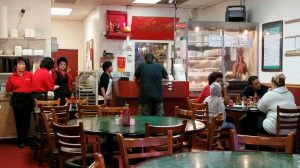 ***** Tasty Wok BBQ & Noodle House, 1246 East Colonial Drive, Orlando, Florida 32803, (407) 896-8988.
This is a very simple Chinese food "story."
Jeff Eats recently tried Tasty Wok BBQ & Noodle House in Orlando and it was absolutely dynamite.
Real simple…this is a bare bones "hole in the wall" joint—ducks hanging from the ceiling.
Tasty Wok's menu will please you-guys who want "real" Chinese food (whatever REAL means?)–and also guys like me who are looking for Brooklyn-Jewish circa 1950's Chinese food.
A recent outing had Jeff Eats, Mrs. Jeff Eats and a bunch of friends doing:
1. wonton soup,
2. egg rolls,
3. fried meat dumplings,
4. roast pork,
5. sweet and sour pork,
6. general tso's chicken,
7. shrimp in lobster sauce,
8. pepper steak,
9. roast duck
10. shrimp fried rice
Like I said a few seconds ago…absolutely dynamite. No fooling around here, some of the best Chinese food Jeff Eats has eaten in Florida.
Nothing for nothing, food and decor-wise, Tasty Wok could successfully compete with most of NYC Chinatown's players. To be perfectly honest with you, I'd match Tasty Wok's roast duck and roast pork up against NYC Chinatown's best joints–any day of the week. Those two "items" alone, were worth the price of admission.
You Orlandoians got a homerun going here.
Tasty Wok is open 7 days a week 10:30am-9:30pm..
Just a "suggestion"—check the YELP reviews on this one. There are something like 100 reviews and other than a small handful—most folks loved Tasty Wok. The comments should "give" you some more color about Tasty Wok.