Davide Italian Cafe & Deli (Marco Island)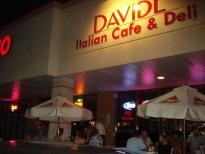 ***** Davide Italian Cafe & Deli, 688 Bald Eagle Drive, Marco Island, Florida 34145, (239) 393-2233.
Jeff Eats & Mrs. Jeff Eats recently "did" dinner in Marco Island. We tried a neighborhood "red sauce" Italian joint…Davide Italian Cafe & Deli and I gotta tell you, we really enjoyed the food. To put your mind at ease, it's in the requisite strip-center, it has indoor/outdoor patio seating, your shorts/tee shirt ensemble will work well here. From what Jeff Eats understands, every so often the owner's father entertains–singing Italian stuff, but on the night we were there–he wasn't, so he didn't.
Just a quick thought… What's a Mariachi Band? A Mariachi Band is a group of musicians who if they come over to your table…you give a buck to, to make them go away.
Anyway…back to Davide…
You can check www.davideitaliancafe.com for menu/prices/photos.
The dishes "sampled"—lasagna bolognese, chicken parmigiana panini, margherita pizza. Now nothing for nothing, the food was real good…Can't really put the items in a pecking order-because they were "equally" good. I will tell you, the pizza- had a nice thin crust with a really good sweet sauce.
Just so there is no misunderstanding between us, Davide isn't your typical joint…by that, I mean having a menu loaded with all kinds of appetizers, salads, soups, subs, calzones, pastas, pizzas meat/chicken/seafood entrees. When you check Davide's menu, you'll find a handful of appetizers–pizzas-pastas-paninis/subs…so forget about those big- entrees that you envisioned stuffing your face with—because, Davide ain't got them. Jeff Eats survived the "small" menu, so you probably will to, but between you, me and the bedpost—I like bigger menus when I'm doing "red sauce."
In closing, Jeff Eats really enjoyed Davide. The food was high-quality, tasty, reasonably priced—definitely a step or two above most of the red sauce joints that dot South Florida's strip center landscape (and yes, Jeff Eats does know that Marco Island isn't part of SOUTH Florida, so there!).
Davide's is open for lunch Monday-Friday 11:30am-2:30pm and for dinner Monday-Sunday 4:30pm-9:30pm.