El Balcon De Las Americas (Coral Springs, Margate, Plantation, Deerfield Beach)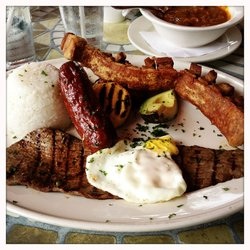 ***** El Balcon De Las Americas, 7932 West Sample Road, Coral Springs, Florida 33065, (954) 346-4590.
Got something really-really good for you guys…El Balcon De Las Americas—a joint that does Columbian/Latin stuff.
Just so you know, there are 4-locations…Jeff Eats "did" lunch at the Coral Springs' restaurant.
You can check menu/prices/locations at www.balcondelasamericas.com.
The Coral Springs location has both indoor/outdoor patio seating. Not 100% sure on this, but when Jeff Eats, Mrs. Jeff Eats and another couple were there last Sunday afternoon around 3pm, it-seemed that we were the only customers "speaking" English. The joint was jammed packed and I'm gonna figure that at least 75 people were eating. Now you "scared-e-cats" don't worry, the waiters and counter folks spoke English, so Jeff Eats, Mrs. Jeff Eats & Company had no problema what so-ever ordering. Based on the fact that Jeff Eats was a straight "D" student in high school/college Spanish–the bet here is that everyone else was speaking Spanish…but then again, what does a "D" student know? Putting two and two together, I'm thinking that a Columbian-Latin food joint "warrants" Spanish speakers, but then again, Portuguese sounds like Spanish to me, so I could have been dead wrong.
Anyway…this joint is one cool restaurant. Real easy going–can't exactly explain the décor…let's "say" a neighborhood diner with Latin flair.
El Balcon De Las Americas' menu has a handful of breakfast items, appetizers, salads, soups, meat/chicken/seafood entrees, desserts.
Let me tell you that the arepa de cholo ($1.75) and beef empanadas ($.99) were dynamite…Our "party" also had, chuleta calena (thinly pounded/breaded/deep fried pork tenderloin-$8.99), carne asad (grilled flat steak-$10.99), chicken fajitas ($12.99), pargo rojo (deep fried red snapper-$13.99)…every item was delicious, the portions were enormous—and the prices were very-very reasonable.
Like I said before, think–neighborhood diner with a Latin flair and you'll be on the right page.
It goes without saying, shorts/tee shirt ensembles are the dress of the day.
El Balcon De Las Americas is open 7 days a week for breakfast-lunch and dinner.