My Little Greek Deli (Miami Springs)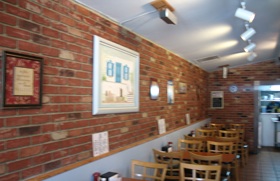 ***** My Little Greek Deli, 195 Westward Drive, Miami Springs, Florida 33166, (305) 863-9857.
Got a real good "mom & pop" Greek joint for you guys…My Little Greek Deli in Miami Springs.
Absolutely-positively nothing fancy going on here. Half a dozen or so "counter seats"—half a dozen or so tables.
When you check www.mylittlegreekdeli.com for menu/prices you'll also find a handful of décor-photos.
The joint's menu has the "expected" Greek appetizers, pita wraps, and dinner entrees. It also has a load of "non" Greek stuff like pastrami-corned beef-philly cheesesteak subs and hamburgers.
Anyway…stopped in there the other day for lunch and tried—tzaziki, gyro pita, pork souvlaki pita, tilapia pita—every thing was delicious. Nice sized portions, figure 6-8 bucks an item.
Let me sum up My Little Greek Deli this way…like I said about 13 seconds ago, a real good "mom & pop" Greek joint.
My Little Greek Deli is open Monday-Saturday 11am-10pm, closed on Sunday.