Fish Shack (Pompano Beach)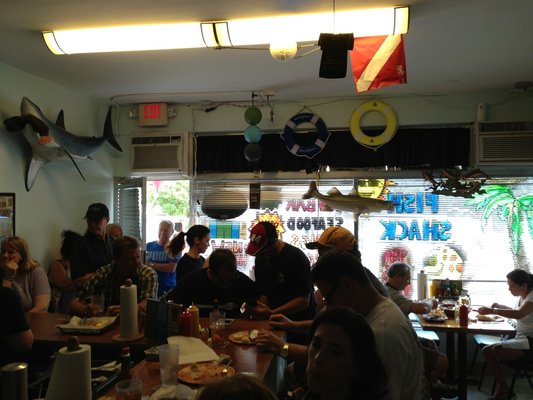 ***** Fish Shack, 2862 Northeast 17th Avenue, Pompano Beach, Florida 33064, (954) 586-4105.
Jeff Eats recently "discovered" an absolutely amazing "mom & pop" fish joint…Fish Shack in Pompano Beach.
Wanna talk hole-in-the-wall? The joint is located in a miniscule bombed-out strip center…maybe table seating for 20 and 5 at the bar. Fish Shack's menu is loaded with fish-stuff…that said, it has hamburgers, chicken breast sandwiches, wraps, salads and chicken wings for the non-fish eaters that may-be in your party. Outrageously delicious reasonably priced…blackened red snapper–grilled yellow fin tuna–conch fritters–fried oysters–cheeseburger–shrimp burger.
Every so often Jeff Eats comes across an absolute HOMERUN…Fish Shack is a GRAND SLAM!
Like I said a few seconds ago…hole in the wall, fabulous food.
I highly recommend that you try Fish Shack. The bet here–you won't be disappointed.
Fish Shack is open Monday-Saturday 11am-9pm, closed on Sunday.