Paradero Original (Fort Lauderdale)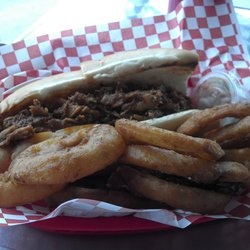 ***** Paradero Original, 3335 East Oakland Park Boulevard, Fort Lauderdale, Florida 33308, (954) 514-7585.
Got an absolutely terrific– order at the counter/pickup at the counter barbecue joint for you…Paradero Original in Fort Lauderdale. Handful of tables inside/a couple of tables outside, that's it!
You can check menu/prices at www.paraderooriginal.com.
Let me start by saying that Jeff Eats absolutely loved this joint.
Paradero has a real simple menu…St. Louis cut spare ribs, bbq chicken, 6-sandwiches, 1-soup, 1-salad, french fries/sweet potato fries/onion rings—end of story!
A recent outing had Jeff Eats "sampling" ribs, chicken, pulled pork sandwich, french fries, sweet potato fries…Now, trust me here—everything and I do mean everything was delicious.
For those who may-be wondering, Paradero is doing "smoked-stuff"… that said—Chinese rib aficionados and Tony Roma/Bobby Rubino "fans" will find the food just-fine…not too much smoke and a real nice sweet-tangy sauce.
This hole-in-the-wall is an absolute must try…Just that simple!
Paradero Original is open Monday-Saturday noon-9pm, closed on Sunday.