Kim Wu Chinese Restaurant (Orlando)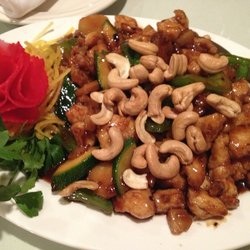 ***** Kim Wu Chinese Restaurant, 4904 South Kirkland Road, Orlando, Florida 32811, (407) 293-0752.
Got a good Chinese joint for you…Kim Wu Chinese Restaurant in Orlando. Now, I'm not suggesting that you Miamians-Pembroke Pineians-Boca Ratonians (insert your South Florida "area" and add 'ians') schlep all the way to Orlando to eat—that said, if you work–live or happen to be in Kim Wu Chinese's neighborhood—give it a shot.
Jeff Eats recently did dinner at Kim Wu. Applying my Brooklyn-Jewish 1950's taste test, Jeff Eats "sampled"—wonton soup, bbq ribs, egg rolls, sweet & sour chicken, general tso's chicken (no spice), moo shu pork, roast pork fried rice—I gotta tell you that the joint's stuff was pretty decent. You can check menu/prices at www.asiavtour.com.
Now just so we are straight, this is American-Chinese food, so you guys looking for Hong Kong or Real Chinese stuff (whatever that is!), this joint ain't for you.
Let me flesh this story out a bit for you…obligatory strip center location. Lunch buffet. All kinds of "specials." Mom & Pop service/prices. On the food front, I really enjoyed the wonton soup, general tso's chicken, sweet & sour chicken and the moo shu pork—I'd rate these dishes in total 83.354% better than "others" I've had in South Florida. The egg rolls, fried rice and ribs, nothing special going on there.
Let's wrap this one up this way…
Kim Wu Chinese is a good place to know about.
Kim Wu is open for lunch-dinner 7 days a week.