***** THINGS ARE A CHANGIN' *****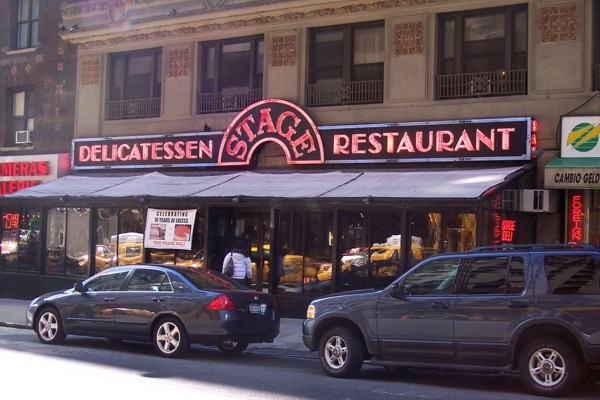 ***** THINGS ARE A CHANGIN' *****
Just in case you didn't "hear" the news…the Stage Deli is no more–
***
A Closing Ends an Era, and a Deli War
By GLENN COLLINS and FLORENCE FABRICANT
Published: December 1, 2012
A perpetual pastrami war has, at last, ended
Hiroko Masuike/The New York Times
The Stage Deli on Seventh Avenue, known for its overstuffed sandwiches, closed after 75 years.
For generations, two venerable Seventh Avenue establishments, the Stage Deli and the Carnegie Deli, battled implacably for customers, newspaper ink, news crews, show-business notables, dignitaries and celebrity-sandwich names.
But with the news on Friday that the Stage Deli — known for its overstuffed sandwiches garnished with the names of show-business boldfacers — had closed its doors at midnight on Thursday after 75 years, the interminable hostilities ceased.
"I am in total shock," said Marian Levine, the Carnegie's owner. She pointed out that both rivals opened in 1937. Each was a half-block from West 54th Street, in what used to be the heart of what one might call Manhattan's deli district.
Paul Zolenge, who owned the Stage Deli with Steve Auerbach, said the closing was "devastating, the end of an era, something I never thought would happen."
Mr. Zolenge, who became a co-owner in 1986, blamed the sagging economy, a spiraling rent and a forthcoming rent increase expected when his lease at 834 Seventh Avenue ends in a few months. "It's not a great season for Broadway, either," he said.
"After the shows would break, we would see a lot of Playbills walking in," he said of his post-theater customers. "And that, well — it had declined."
In the full-fat firmament of Midtown, revered old-timers have been keeling over one by one. Two blocks to the south on 52nd Street, Gallagher's, the 85-year-old steakhouse, a Runyonesque shrine to show business pillars and prizefighters, filed a closing notice in October pending purchase by the restaurateur Dean Poll. In June, the 30-year-old steakhouse Ben Benson's, also on 52nd Street, shuttered when its landlord would not renew the lease. And in November, Sarge's Delicatessen on Third Avenue near East 37th Street was ravaged by a blaze battled by 150 firefighters.
The news about the Stage Deli brought agita to its peers. "We're sorry to hear they closed — all of us are definitely becoming dinosaurs," said Conrad Strohl, owner of the Edison Cafe, in the Edison Hotel on West 47th Street — nicknamed the "Polish Tearoom" by its habitués. "Theater prices are getting higher, and for many, eating out is a luxury, even though we're reasonably priced," Mr. Strohl said. "We're getting nervous."
Mrs. Levine of the Carnegie said retail rents in the neighborhood "have been going up; they are tripling them, and that's been putting people out of business. But we're O.K. We own our building. We hope to be in business another 75 years."
She declined to say that her delicatessen had won the primordial deli battle, "because we have no idea what the circumstances are," she said. "There was enough business to go around, for both of us."
And Mr. Zolenge made nice by saying that the Stage and the Carnegie "always had a friendly competition."
"When we had a line, they had a line," he said.
Certainly the two restaurants vied constantly for public acclaim, even if it was to their mutual advantage. For many years, the Stage had the greater reputation. But in 1979 Mimi Sheraton, then The New York Times's restaurant critic, deemed the Carnegie pastrami superior. Then came the deli's image-burnishing turn in the 1984 Woody Allen movie "Broadway Danny Rose."
"That's now our most popular sandwich," Mrs. Levine said of the menu item named after the film (corned beef and pastrami with Russian dressing on rye for $19.95).
The Stage was a setting for a lesser-known Woody Allen comedy, the 2003 "Anything Else," starring Jason Biggs. And Sandra Bullock spent a day there shooting the 2002 film "Two Weeks Notice."
"They did take after take, but it all wound up on the editing floor," Mr. Zolenge said.
The Stage kept drawing its share of names: Geoffrey Rush, Liev Schreiber, Ray Liotta and Linda Lavin were regulars, Mr. Zolenge said. "And Donnie Wahlberg was a fan," he added.
The tumult got nasty from time to time. During a publicity-stoked "pastrami war" in 1988, the Stage claimed it drew more comedians, including Jackie Mason, because the Carnegie had replaced its famous comics' table with a cake stand. And the Stage belittled the curing of Carnegie pastrami in New Jersey with "Secaucus water, not New York water."
Mrs. Levine's father, Milton Parker, who then owned the Carnegie, replied that the Stage was "living off our overflow." Mr. Zolenge said he had not had time to ponder whether the Stage Deli brand should be sold, or to whom. "I haven't thought of anything except getting this day over with," he said, adding that the restaurant employed a staff of 45. "I'm saying goodbye to people who have been with me for 30 years."
A version of this article appeared in print on December 1, 2012, on page A20 of the New York edition with the headline: A Closing Ends an Era, and a Deli War.
.