Maria's Greek Restaurant (Miami)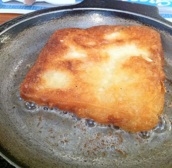 ***** Maria's Greek Restaurant, 2359 Southwest Coral Way, Miami, Florida 33145, (305) 856-0938.
Got an absolutely terrific "Greek" joint for you…Maria's Greek Restaurant in Miami. Absolutely-positively nothing fancy going on here, so your tee shirt/shorts/flip flop ensembles will do just fine.
Just so you know, if this joint wasn't something like 106 miles round trip from my house–I'd be a real-regular customer. To be honest with you, if the round-tripper was-like 40 miles, I'd be there twice a month.
A recent "dinner" netted Jeff Eats–mousaka, keftedes, gyro, lamb chops, tilapia. Now trust me here, the food is outrageously good. The tzatziki and pita bread were worth the 106 mile trip alone. Big portions, pleasant enough service, reasonable prices– most platters go for around 14-15 bucks…
Like I said a few seconds ago, Maria's Greek Restaurant is a terrific joint.
Maria's is open Monday-Friday 11am-10pm, Saturday 5pm-110pm, closed on Sunday.